The Dehler 45 Sailboat

Specs & Key Performance Indicators
The Dehler 45 is a cruiser-racer sailboat that was designed by Simonis Voogd Design and built by Dehler Yachts in Germany since 2010. It is a light, fast, and stable sailboat that can perform well in both regattas and cruising.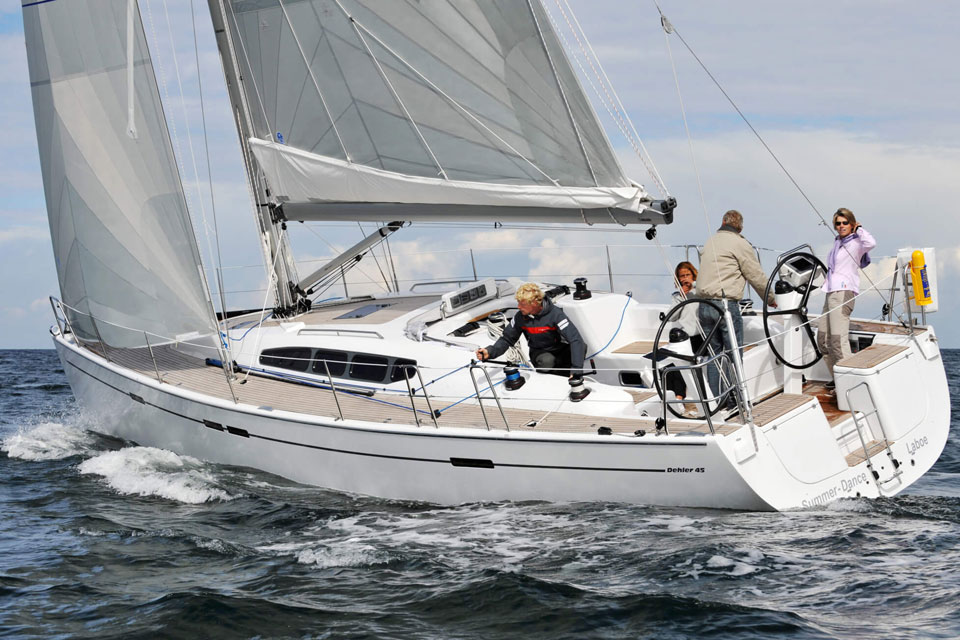 A Dehler 45
Her underwater profile and sailplan clearly indicates that this is a high performance sailboat
Published Specification for the Dehler 45
Underwater Profile: Bulb fin keel with spade hung rudder
Hull Material: GRP (Fibreglass)
Length Overall: 44'11" (13.7m)
Waterline Length: 39'4" (12.0m)
Beam: 12'6" (3.9m)
Draft: 7'3" (2.2m)
Rig Type: Fractional sloop
Displacement: 21,385lb (9,700kg)
Ballast: 7.782lb (3,530kg)
Designer: Simonis Voogd
Builder: Dehler Yachts (Germany)
Year First Built: 2010
The Dehler 45 Accommodation Plan
Check out the latest sailboats in the Dehler range...
Published Design Ratios for the Dehler 45
1. Sail Area/Displacement Ratio: 21.7
2. Ballast/Displacement Ratio: 36.4
3. Displacement/Length Ratio: 157
4. Comfort Ratio: 27.4
5. Capsize Screening Formula: 1.8
---
Cruisers' Questions about this Sailboat...
There were two versions of the Dehler 45 sailboat produced: the standard version and the shoal draft version. The main difference between them was the depth of the keel and the amount of ballast. The standard version had a deeper keel (2.2m) and less ballast (3,530 kg), while the shoal draft version had a shallower keel (1.9m) and more ballast (3,900 kg). This affected the sailing performance and stability of the boat in different conditions. The standard version was faster and more agile, but also more prone to heeling and capsizing. The shoal draft version was slower and less responsive, but also more stable and suitable for shallow waters. Both versions had the same hull, rig, sail area, and interior layout.

The Dehler 45 sailboat is a high-performance sailboat that can reach speeds of up to 9 knots in light winds and up to 12 knots in moderate winds. It has a hull speed of 8.4 knots and a theoretical maximum speed of 14.5 knots.
The Dehler 45 sailboat is built to meet the highest standards of safety and durability. It has a strong and stiff hull made of fibreglass with carbon reinforcements. It has a stainless steel keel frame that distributes the loads evenly throughout the hull. It has an integrated collision bulkhead at the bow that protects the hull from water ingress in case of impact. It has an emergency tiller that can be used in case of steering failure.
The Dehler 45 sailboat is designed to offer easy handling and manoeuvrability for both experienced and novice sailors. It has a self-tacking jib that simplifies tacking and gybing. It has an electric winch that controls the mainsail sheeting system. It has an optional bow thruster that assists in docking and mooring. It has an optional autopilot that can steer the boat according to the wind or course settings.
The Dehler 45 sailboat is suitable for various sailing activities and conditions. It can be used as a fast cruiser for long-distance voyages or as a competitive racer for regattas and championships. It can adapt to different wind strengths and sea states with its adjustable rigging and keel options. It can accommodate different crew sizes and preferences with its flexible layout and equipment options.

The Dehler 45 sailboat is a premium sailboat that has a high price tag. The base price of the Dehler 45 sailboat is around $400,000 USD. The final price may vary depending on the options and extras chosen by the buyer. Some of the optional features include a carbon mast, a gennaker, a generator, an air conditioner, a watermaker, a TV, and a stereo system.

The above answers were drafted by sailboat-cruising.com using GPT-4 (OpenAI's large-scale language-generation model) as a research assistant to develop source material; to the best of our knowledge, we believe them to be accurate.
---
Summary Analysis of the Design Ratios for the Dehler 45
1. A Sail Area/Displacement Ratio of 21.7 suggests that, in the right hands, the Dehler 45 will have enough performance to leave most other sailboats of similar waterline length well astern. 
2. A Ballast/Displacement Ratio of 36.4 would usually mean that the Dehler 45 would have a tendency to heel uncomfortably in a gust, and need to be reefed early to keep her sailing upright in a moderate breeze.
However, as she has much of her ballast concentrated in a bulb at the foot of her keel, she's likely to be considerably stiffer than her published Ballast/Displacement Ratio might suggest.
3. A Displacement/Length Ratio of 157 tells us the Dehler 45 is clearly a light displacement sailboat. If she's loaded with too much heavy cruising gear her performance will suffer to a degree.
4. Ted Brewer's Comfort Ratio of 27.4 suggests that crew comfort of a Dehler 45 in a seaway is similar to what you would associate with the motion of a coastal cruiser with moderate stability, which is not the best of news for anyone prone to seasickness. 
5. The Capsize Screening Formula (CSF) of 1.8 indicates that a Dehler 45 would be a safer choice of sailboat for an ocean passage than one with a CSF of more than 2.0. 
Other sailboats in the Dehler range include:
Sep 29, 23 05:38 PM

Sailing characteristics and performance predictions, pics, specifications, dimensions and those all-important design ratios for the Hanse 400 sailboat...

Sep 29, 23 03:17 AM

Interested in the Gulf 32 sailboat? Here are the pics, specs and performance predictions you're looking for...

Sep 28, 23 04:04 PM

Sailing characteristics and performance predictions, pics, specifications, dimensions and those all-important design ratios for the Fuji 35 sailboat
---