The Dehler 38 Sailboat

Specs & Key Performance Indicators
The Dehler 38, a fractionally rigged sloop, was designed by Judel/Vrolijk & Co and built in Germany by Dehler Yachts.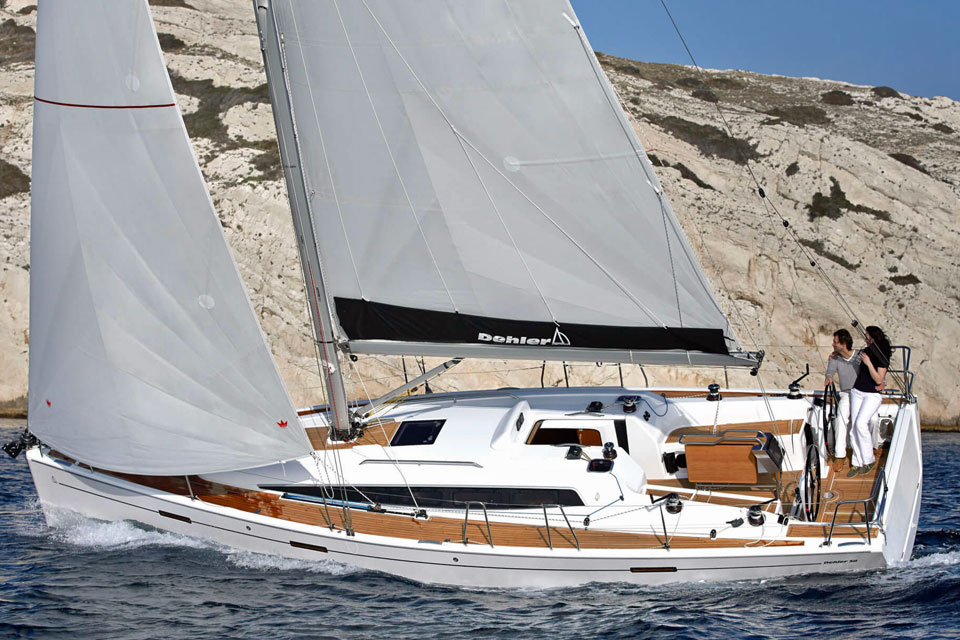 A Dehler 38
Published Specification for the Dehler 38

Underwater Profile: Bulb fin keel & spade rudder
Hull Material: GRP (Fibreglass)
Length Overall: 37'1" (11.3m)
Waterline Length: 34'2" (10.4m)
Beam: 12'3" (3.8m)
Draft: 6'7" (2.0m)
Rig Type: Fractional sloop
Displacement: 15,653lb (7,100kg)
Ballast: 4,960lb (2,250kg)
Designer: Judel/Vrolijk & Co
Builder: Dehler Yachts (Germany)
Year First Built: 2013
---
Published Design Ratios for the Dehler 38
1. Sail Area/Displacement Ratio: 21.9
2. Ballast/Displacement Ratio: 31.7
3. Displacement/Length Ratio: 176
4. Comfort Ratio: 24.4
5. Capsize Screening Formula: 1.97
Summary Analysis of the Design Ratios for the Dehler 38
1. A Sail Area/Displacement Ratio of 21.7 suggests that, in the right hands, the Dehler 38 will have enough performance to leave most other sailboats of similar waterline length well astern. 
2. A Ballast/Displacement Ratio of 31.7 would usually mean that the Dehler 38 would have a tendency to heel uncomfortably in a gust, and need to be reefed early to keep her sailing upright in a moderate breeze.
However, as she has much of her ballast concentrated in a bulb at the foot of her keel, she's likely to be considerably stiffer than her published Ballast/Displacement Ratio might suggest.
3. A Displacement/Length Ratio of 176 tells us the Dehler 38 is clearly a light displacement sailboat. If she's loaded with too much heavy cruising gear her performance will suffer to a degree.
4. Ted Brewer's Comfort Ratio of 24.4 suggests that crew comfort of a Dehler 38 in a seaway is similar to what you would associate with the motion of a coastal cruiser with moderate stability, which is not the best of news for anyone prone to seasickness. 
5. The Capsize Screening Formula (CSF) of 1.97 indicates that a Dehler 38 would be a safer choice of sailboat for an ocean passage than one with a CSF of more than 2.0. 
---
More about the Dehler 38...
The Dehler 38 is a modern and sleek sailboat that was launched in 2012 by the German manufacturer Dehler Yachts. It was designed by the renowned naval architects Judel/Vrolijk, who have also worked on America's Cup and Volvo Ocean Race boats. The Dehler 38 won the European Yacht of the Year award in 2014 in the performance cruiser category, and has been praised for its innovative features and excellent sailing characteristics.

Dehler 38 Internal Layout
One of the main attractions of the Dehler 38 is its customizability. You can choose from several rig and sail options, such as a standard or competition mast, a self-tacking jib or an overlapping genoa, a square-top or a conventional mainsail, and more. You can also opt for different keel types, such as a deep or shallow draft, to allow you to optimize the boat for your preferred sailing conditions and performance level.

The Dehler 38 also has a striking exterior design that enhances its aerodynamics and aesthetics. The boat has sleek lines, an elegant bow with an integrated bowsprit, large hull windows that provide natural light and ventilation, and a spacious cockpit with twin wheels and retractable footrests. The cockpit also features an innovative bathing platform that is flush-mounted into the transom and can be lowered or raised with an electric winch. The platform has an ergonomic ladder and a handrail for easy access to the water. The boat also has an LED light-band integrated into the teak deck that creates a stunning effect at night.
Accommodation
The interior of the Dehler 38 is equally impressive as the exterior. The boat offers a variety of layouts and finishes that suit different lifestyles and tastes. You can choose between two or three cabins, one or two heads, an island bed or a V-berth in the owner's cabin, a longitudinal or L-shaped galley, and more. The interior is lined with an ivory tone that contrasts nicely with the wood furniture and the black handrails. The cabins are bright and spacious, thanks to the large hull windows and deck hatches.
The saloon is the heart of the boat, where you can relax, dine or socialize. It has a comfortable U-shaped sofa with a folding table on the starboard side, and another sofa or two seats with a chart table on the port side. The table can be lowered to create an extra berth if needed. The saloon also has plenty of storage space in lockers and shelves.
The galley is located aft of the saloon on either side of the companionway. It is well-equipped with a two-burner stove, an oven, a sink, a fridge, and ample counter space and cabinets. The galley is designed to be functional and ergonomic, even when sailing at an angle.
The owner's cabin is located forward of the saloon and offers privacy and comfort. It has either an island bed or a V-berth with storage drawers underneath, two hanging lockers, two shelves, and two reading lights.
The guest cabins are located aft of the saloon on either side of the engine compartment. They have either double or single berths with storage lockers, shelves and reading lights. They share a head with the saloon that has a toilet, a sink and a shower.
Hull and Deck
The hull of the Dehler 38 is made of fiberglass with balsa core sandwich construction for strength and lightness. The hull shape is optimized for speed and stability, with a fine entry at the bow, a flat run aft, and chines that reduce drag and heel angle. The hull also has an epoxy barrier coat that protects it from osmosis.
The deck of the Dehler 38 is also made of fiberglass with balsa core sandwich construction for stiffness and insulation. The deck layout is designed for easy handling and safety, with all lines led aft to the cockpit through clutches and organizers. The cockpit has a large and open space with twin wheels, a folding cockpit table, four winches, and a wide transom with a bathing platform.

The above text was drafted by sailboat-cruising.com using GPT-4 (OpenAI's large-scale language-generation model) as a research assistant to develop source material; we believe it to be accurate to the best of our knowledge.
---
Other sailboats in the Dehler range include:
Oct 02, 23 12:17 PM

It's true that the ketch sailboat with its split rig can make an attractive cruising sailboat for a short-handed crew, but there is a downside to these types of sailboats

Oct 02, 23 08:47 AM

Thinking of buying a Hanse 548 sailboat? Perhaps you should first take a look at these pics, specs and key performance indicators...

Oct 02, 23 04:56 AM

Thinking of buying a Hanse 458 sailboat? Perhaps you should first take a look at these pics, specs and key performance indicators...
---