The Hallberg-Rassy 41 Sailboat

Specs & Key Performance Indicators
The Hallberg-Rassy 41, a double-headed ketch, was designed by Olle Enderlein and built in Sweden by Hallberg-Rassy.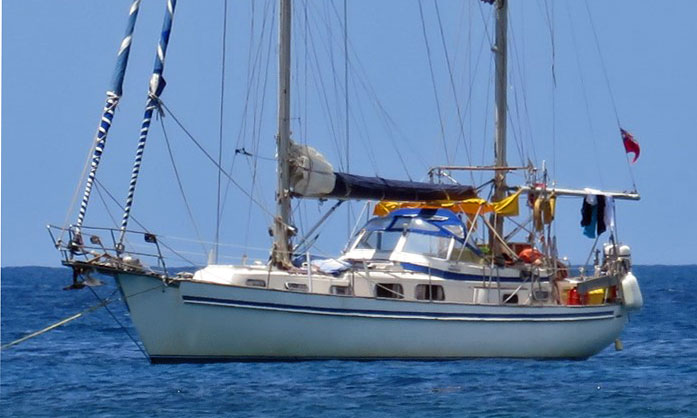 A Hallberg-Rassy 41
Published Specification for the Hallberg-Rassy 41
Underwater Profile: Fin keel & skeg-hung rudder
Hull Material: GRP (Fibreglass)
Length Overall: 41'0" (12.5m)
Waterline Length: 34'2" (10.4m)
Beam: 11'10" (3.6m)
Draft: 6'1" (1.9m)
Rig Type: Masthead ketch
Displacement: 21,825lb (9,900kg)
Designer: Olle Enderlein
Builder: Hallberg-Rassy (Sweden)
Year First Built: 1975
Year Last Built: 1981
Number Built: 105
Published Design Ratios for the Hallberg-Rassy 41
1. Sail Area/Displacement Ratio: 15.9
2. Ballast/Displacement Ratio: 38.4
3. Displacement/Length Ratio: 244
4. Comfort Ratio: 38.6
5. Capsize Screening Formula: 1.7
Summary Analysis of the Design Ratios for the Hallberg-Rassy 41
1. A Sail Area/Displacement Ratio of just 15.9 suggests that the Hallberg-Rassy 41 will need a stiff breeze to get her going. In light conditions, unless you've got plenty of time on your hands, motor-sailing may be the way to go.
2. A Ballast/Displacement Ratio of 38.4 means that a sailboat like the Hallberg-Rassy 41 (which doesn't have a stiffness-enhancing bulb keel), is likely to benefit from being reefed early to keep her sailing upright in a moderate breeze.
3. A Displacement/Length Ratio of 244, tells us the Hallberg-Rassy 41 is a moderate displacement cruiser, which means she'll carry all your cruising gear without it having a dramatic effect on her performance. Most of today's sailboats intended for offshore cruising fall into this displacement category.
4. Ted Brewer's Comfort Ratio of 38.6 suggests that crew comfort of a Hallberg-Rassy 41 in a seaway is similar to what you would associate with the motion of a moderate bluewater cruising boat - a predictable and acceptable motion for most seasoned sailors.
5. The Capsize Screening Formula (CSF) of 1.7 indicates that a Hallberg-Rassy 41 would be a safer choice of sailboat for an ocean passage than one with a CSF of more than 2.0. 
More about the Hallberg-Rassy 41... 
Accommodation
The Hallberg-Rassy 41 sailboat has a spacious and comfortable interior with a classic Scandinavian style. The boat has a walk-through layout that allows free passage from the aft cabin to the forepeak below deck. The aft cabin has a large double berth, a sofa, a hanging locker, and an ensuite head with shower. The forepeak has another double berth, a locker, and access to the second head. The saloon has two long settees that can be used as extra berths, a drop-leaf table, and plenty of storage space. The galley is located on the port side by the companionway, and has a sink, a stove, an oven, a fridge, and ample counter space. The navigation station is on the starboard side, and has a large chart table, a seat, and an instrument panel.

Sail Plan & Rigging
The Hallberg-Rassy 41 sailboat has a cutter or ketch rig with a single spreader mast and a boom vang. The sail area is 80 m2 (861 sq ft) for the cutter rig and 86 m2 (926 sq ft) for the ketch rig. The mainsail has three reefs and lazyjacks, and the headsails are roller-furling. The boat also has a spinnaker pole and gear for downwind sailing .
Keel Options
The Hallberg-Rassy 41 sailboat has one keel option: a long fin keel with and a rudder supported by a full skeg. The draught is 1.88 m (6 ft 2 in) for both the cutter and ketch rigs .
Sailing Performance
The Hallberg-Rassy 41 sailboat is a long-distance cruiser that offers excellent performance and handling in various wind conditions. She is designed by Olle Enderlein, who also designed successful racing yachts like the Rassker 35 and the Scampi 30. She has a balanced helm, a responsive rudder, and a powerful sail plan that can be easily trimmed. She can reach up to 8 knots upwind and over 12 knots downwind with a spinnaker. She is also stable and seaworthy, capable of handling rough seas and strong winds. She has won several races and rallies, including the Rolex Giraglia Race in 2011.
Average Cost
The Hallberg-Rassy 41 sailboat was built between 1975 and 1981, with 105 hulls completed. The average cost of a secondhand Hallberg-Rassy 41 sailboat is around £100,000 according to YachtWorld. However, the price may vary depending on the condition, equipment, and location of the boat.
Other sailboats designed by Olle Enderlein
He as a Swedish yacht designer who designed many sailboats, especially for Hallberg-Rassy. Some of the sailboats he designed are;
Hallberg-Rassy sailboats

Hallberg-Rassy 24;
Hallberg-Rassy 26;
Hallberg-Rassy 312 MKII;
Hallberg-Rassy 352;
Hallberg-Rassy 38;
Hallberg-Rassy 382;
Hallberg-Rassy 42 (E);
Hallberg-Rassy 49.
Other sailboats

Indra;
Mistral 33;
Mistress 32;
Monsun 31;
Rasmus 35;
Shipman 28;
OE 36.
The above text was drafted by sailboat-cruising.com using GPT-4 (OpenAI's large-scale language-generation model) as a research assistant to develop source material; we believe it to be accurate to the best of our knowledge.
Other sailboats in the Hallberg-Rassy range include:
Nov 29, 23 08:35 AM

Here's where people with sailing equipment for sale advertise their stuff entirely free of charge. If you're looking for used sailing gear or other used boating accessories, here's where to find it!

Nov 10, 23 02:34 AM

My 47' Cheoy Lee sailboat is for sale. Designed by Bill Luders, she is a beautiful and functional liveaboard cruising yacht.

Oct 30, 23 04:22 PM

This article explores the journey of chartering a sailing yacht, from the initial planning stages to the final touches. It provides insight into the joys and challenges of embarking on a voyage of dis…
---