The Hanse 348 Sailboat

Specs & Key Performance Indicators
The Hanse 348, a fractional sloop, was designed by Judel/Vrolijk & Co and built in Germany by Hanse Yachts. It's a popular choice for cost-conscious cruisers and has won awards for its value.

A Hanse 348
Published Specification for the Hanse 348
Underwater Profile: L-shaped bulb fin keel & spade rudder
Hull Material: GRP (Fibreglass)
Length Overall: 32'9" (10.0m)
Waterline Length: 31'4" (9.6m)
Beam: 11'6" (3.5m)
Draft: 6'5" (2.0m)
Rig Type: Fractional sloop
Displacement: 13,889lb (6,300kg)
Ballast: 5,071lb (2,300kg)
Designer: Judel/Vrolijk & Co
Builder: Hanse Yachts (Germany)
Year First Built: 2018
---
Published Design Ratios for the Hanse 348

1. Sail Area/Displacement Ratio: 17.5
2. Ballast/Displacement Ratio: 36.5
3. Displacement/Length Ratio: 202
4. Comfort Ratio: 26.2
5. Capsize Screening Formula: 1.9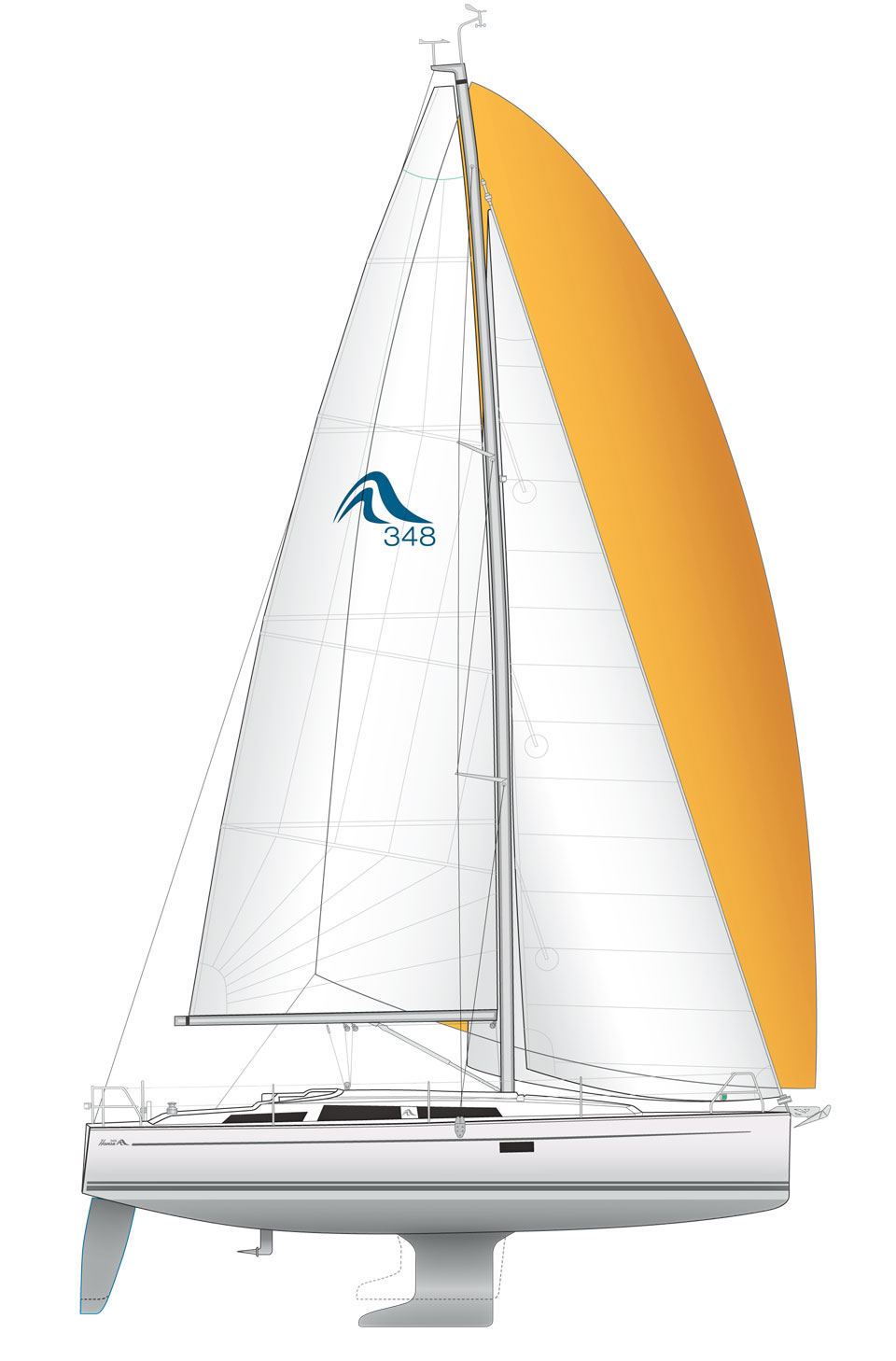 Hanse 348 sailplan & underwater profile

One of the several interior layout options for the Hanse 348
Read more about the latest boats in the Hanse range...
Summary Analysis of the Design Ratios for the Hanse 348
1. A Sail Area/Displacement Ratio of 17.5 suggests that the Hanse 348 will, in the right conditions, approach her maximum hull speed readily and satisfy the sailing performance expectations of most cruising sailors.
2. A Ballast/Displacement Ratio of 36.5 would usually mean that the Hanse 348 would have a tendency to heel uncomfortably in a gust, and need to be reefed early to keep her sailing upright in a moderate breeze.
However, as she has much of her ballast concentrated in the foot of her L-shaped keel, she's likely to be considerably stiffer than her published Ballast/Displacement Ratio might suggest.
3. A Displacement/Length Ratio of 202 tells us the Hanse 348 is a moderate displacement cruiser, which means she'll carry all your cruising gear without it having a dramatic effect on her performance. Most of today's sailboats intended for offshore cruising fall into this displacement category.
4. Ted Brewer's Comfort Ratio of 26.2 suggests that crew comfort of a Hanse 348 in a seaway is similar to what you would associate with the motion of a coastal cruiser with moderate stability, which is not the best of news for anyone prone to seasickness. 
5. The Capsize Screening Formula (CSF) of 1.9 indicates that a Hanse 348 would be a safer choice of sailboat for an ocean passage than one with a CSF of more than 2.0. 
---
Any Questions?
The sailing press has given positive reviews of the Hanse 348. For example, Yachting Monthly described it as a "delight" to sail, with good performance and easy handling. Cruising World awarded it the Best Value prize in their Boat of the Year competition in 2019, praising its affordability, easy sailing experience, and potential to provide couples and families with enjoyable coastal vacations.
Yes, the Hanse 348 is still in production. It has been built by Hanse Yachts since 2018.
Hanse Yachts is still in business and continues to produce a range of innovative sailing yachts with fast cruising and easy sailing characteristics.
The Hanse 348 has an increased rig size compared to its predecessor, the Hanse 345, providing a larger more powerful sail area. This has greatly increased its sailing performance without compromising its easy sailing experience.
The Hanse 348 is available with two keel options: a shallow keel with a draft of 1.55m or an L-keel with a draft of 1.95m.

The Hanse 348 has been described as enjoyable to sail, with good performance and easy handling. It features a self-tacking jib and all lines led aft to the helm for easy short-handed sailing. Yachting Monthly described it as "a delight" to sail, with good performance even when reefed and light and responsive steering thanks to its Jefa steering system.
The Hanse 348 is available in either a two or three-cabin version. The number of people that can be accommodated on board depends on the layout chosen and the number of berths in each cabin. Typically, each cabin has a double berth, so the maximum number of people that can be accommodated on board would be either four or six, depending on whether the two or three-cabin version is chosen.
The cost of a secondhand Hanse 348 can vary depending on factors such as its age, condition, location, and equipment. A search on boat24.com shows used Hanse 348s for sale with prices ranging from £106,010 for basic models to £156,482 for more expensive models.
The above answers were drafted by sailboat-cruising.com using GPT-4 (OpenAI's large-scale language-generation model) as a research assistant to develop source material; to the best of our knowledge, we believe them to be accurate.
---
Other sailboats in the Hanse range include:
Sep 29, 23 05:38 PM

Sailing characteristics and performance predictions, pics, specifications, dimensions and those all-important design ratios for the Hanse 400 sailboat...

Sep 29, 23 03:17 AM

Interested in the Gulf 32 sailboat? Here are the pics, specs and performance predictions you're looking for...

Sep 28, 23 04:04 PM

Sailing characteristics and performance predictions, pics, specifications, dimensions and those all-important design ratios for the Fuji 35 sailboat
---