The Hanse 400 Sailboat

Specs & Key Performance Indicators
The Hanse 400, a fractional sloop, was designed by Judel/Vrolijk & Co and built in Germany by Hanse Yachts.

Published Specification for the Hanse 400
Underwater Profile: Bulb fin keel and spade rudder
Hull Material: GRP
Length Overall: 40'2" (12.2m)
Waterline Length: 35'5" (10.8m)
Beam: 13'3" (4.0m)
Draft: 6'6" (2.0m)
Rig Type: Fractional sloop
Displacement: 18,739lb (8,500kg)
Designer: Judel/Vrolijk
Builder: Hanse Yachts (Germany)
Year First Built: 2000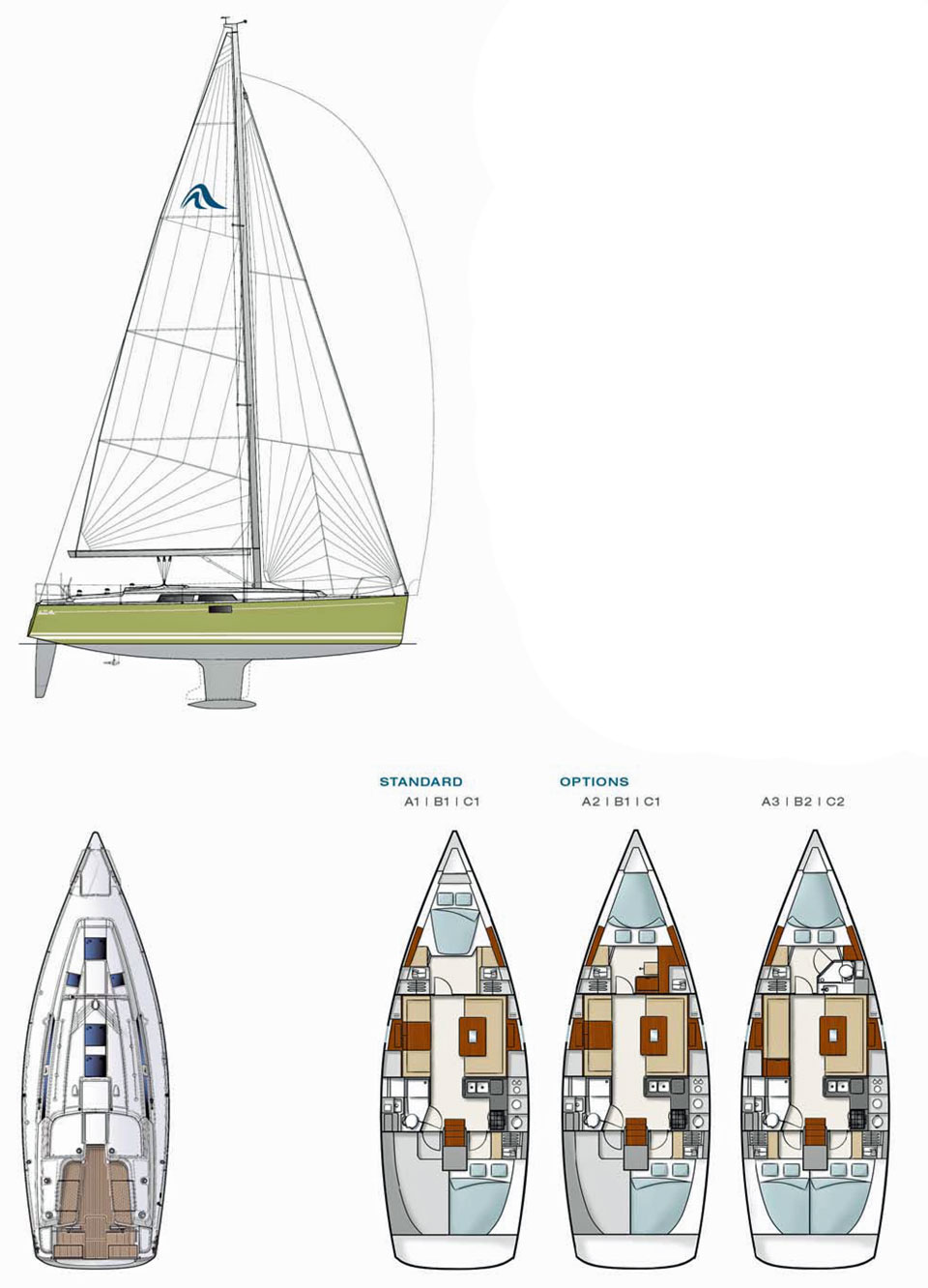 Hanse 400 Deck Layout, Accommodation Alternatives & Sailplan
Alternatives to the Standard Version
For those seeking additional features or customization options, Hanse Yachts offers various alternatives to the standard version of the Hanse 400 sailboat. These include:

Hanse 400e: The "e" stands for "evolution," and this version incorporates several upgrades and refinements, such as an extended bathing platform and improved interior design.
Hanse 400 Performance: Designed for competitive sailors, this version features a taller mast, larger sail area, and enhanced performance-oriented components.
Other options available to potential buyers include various layouts, with the option of either two or three cabins. This flexibility allows potential owners to customize the Hanse 400 to their specific preferences and requirements.
The Hanse 400 has been well received in the sailing press. Yachting World, for instance, praised the boat's balance of speed and comfort. The magazine mentioned its easy handling, spacious interior, and the ability to customize the boat's layout as highlights.
Performance
The Hanse 400 is known for its high performance under sail. Its design ratios, including the Sail Area/Displacement Ratio and the Ballast/Displacement Ratio, contribute to its impressive speed and stability.
The boat's wide beam, carried well aft, delivers plenty of initial stability, allowing it to stand up to the heeling moment induced by its sizable sail plan.
The Hanse 400 is quick and powerful but easy to handle, making it an absolute performance standout in comparison to mainstream production cruising boats. With dinghy-like performance, it's so easy to drive that you positively long to go out sailing alone.
Design Ratios
Much of its impressive sailing performance can be largely attributed to a set of carefully calculated design ratios that provide a comprehensive insight into the vessel's sailing capabilities.

Starting with the Sail Area/Displacement Ratio (SA/D), the Hanse 400 boasts a ratio of 23.52. This suggests the boat is designed with speed in mind, having a considerable sail area relative to its displacement. It's a ratio that indicates the Hanse 400 will perform exceptionally well in light wind conditions.
The Ballast/Displacement Ratio is another critical factor in understanding a sailboat's stability. The Hanse 400 exhibits a ratio of 29.6%, which suggests that it provides a good righting moment and a fairly stiff ride, even under strong winds.
The Displacement/Length Ratio (D/L) of the Hanse 400 is 170.58. A lower D/L ratio signifies a lighter and potentially faster boat, while a higher ratio indicates a heavier, possibly slower vessel. Given the Hanse 400's ratio, you can expect a balance between speed and comfort.
The Comfort Ratio for the Hanse 400 is 24.4, indicating that it offers a reasonably comfortable ride even in challenging conditions. This makes the Hanse 400 ideal for long-distance cruising and for sailing in rough waters.
Finally, according to the Capsize Screening Formula (CSF), the Hanse 400's value of 2.02 suggests that the boat has a good level of safety in the event of a capsize. A CSF less than 2 is considered suitable for offshore cruising, so the Hanse 400 edges just above this range.
But how representative are these design ratios, and how are they derived?
Sailing Press Reviews
The sailing press has praised the Hanse 400 for its exceptional performance and innovative design. Here are some excerpts from notable reviews:

Practical Boat Owner mentioned: "Its construction quality, ease of operation, and its image as a well-trained athlete—strong, capable, and legitimately deserving of its billing as a "crossover" sailboat."
Sailing Today said: "The Hanse 400 is a joy to sail, offering excellent speed and responsiveness. Its modern design and spacious interior make it an ideal choice for cruising enthusiasts."
Yachting Monthly said: "With its sleek lines and well-balanced rig, the Hanse 400 delivers an exhilarating sailing experience. It strikes an excellent balance between performance and comfort."
While the Hanse 400 is generally well-regarded, some owners have commented on a few areas of potential improvement. These include the need for better access to the back of the electrical panel and improvements to the boat's steering system for smoother handling.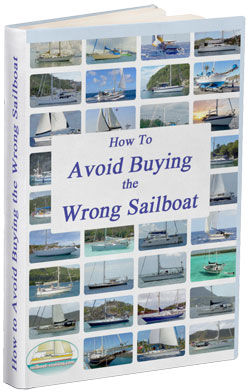 The essential eBook for potential boat buyers...
The Secondhand Market
If you're seeking a Hanse 400 for sale, the secondhand market is quite active. Prices for used Hanse 400 sailboats vary significantly based on factors such as age, condition, and the extent of equipment and upgrades.
As of writing, prices range from around $100,000 for older models to upwards of $150,000 for newer, well-maintained examples.

The Competition
When comparing the Hanse 400 to similar sailboats in its class, it holds its own impressively. The boat's performance, comfort, and customizable options make it a viable contender against other popular models like the Beneteau Oceanis 40 and the Jeanneau Sun Odyssey 40.

The Beneteau Oceanis 40, for instance, offers similar accommodation and performance but might not provide the same level of customization as the Hanse 400. The Jeanneau Sun Odyssey 40, on the other hand, offers a slightly higher Comfort Ratio but may not match the Hanse 400's sailing performance.

Overall, the Hanse 400 sailboat is an appealing package for anyone seeking a blend of performance, comfort, and the freedom to customize their boat to their liking. The boat ticks essential boxes for both cruising comfort and racing performance, making it a versatile choice.
And Finally...
The Hanse 400's build quality is impressive, thanks to the application of modern boatbuilding techniques and high-quality materials. The structure of the boat is solid, with a robust hull and a well-built interior that stands the test of time.

The Hanse 400 also offers an impressive living space, with a well-thought-out layout that maximizes the available room without compromising performance. The interior design strikes a balance between functionality and aesthetics, offering a comfortable and inviting environment for living aboard.
The Hanse 400's user-friendly sail handling system, featuring a self-tacking jib and a fully battened mainsail, is particularly noteworthy. This system makes the boat easy to handle, even when sailing single-handedly or in challenging conditions.
Maintenance of the Hanse 400 is made easier thanks to the boat's design and construction. Most equipment is easy to access and service, and the boat's build quality means that it should stand up to regular use without requiring excessive upkeep.
As with any boat, owning a Hanse 400 does require a commitment of time and money. However, given the boat's performance and comfort, many owners find this a worthy investment for the joy and freedom that comes with owning such an impressive sailboat.
I wrote this article using GPT-4, OpenAI's large-scale language-generation model, as a research assistant to develop source material. I wrote the final draft in its entirety and believe it to be accurate to the best of my knowledge.
Dick McClary, creator and owner of sailboat-cruising.com
Other sailboats in the Hanse range include:
---
Nov 29, 23 08:35 AM

Here's where people with sailing equipment for sale advertise their stuff entirely free of charge. If you're looking for used sailing gear or other used boating accessories, here's where to find it!

Nov 10, 23 02:34 AM

My 47' Cheoy Lee sailboat is for sale. Designed by Bill Luders, she is a beautiful and functional liveaboard cruising yacht.

Oct 30, 23 04:22 PM

This article explores the journey of chartering a sailing yacht, from the initial planning stages to the final touches. It provides insight into the joys and challenges of embarking on a voyage of dis…
---