The Hanse 460 Sailboat

Specs & Key Performance Indicators
The Hanse 460, a fractional sloop, was designed by Berret-Racoupeau and built in Germany by Hanse Yachts.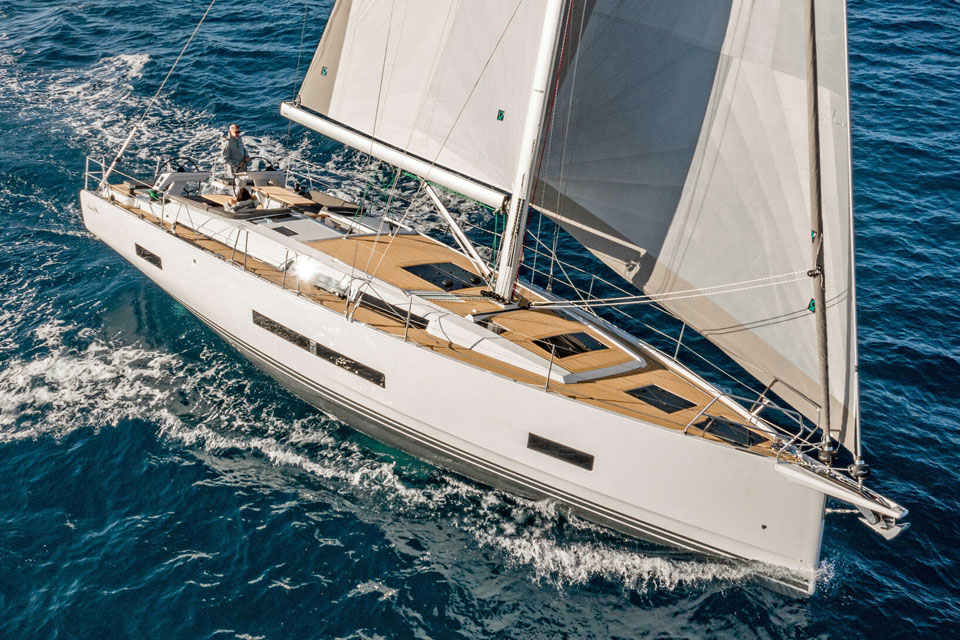 A Hanse 460 flying a reacher on the optional Solent Rig
Published Specification for the Hanse 460
Underwater Profile: L-shaped bulb fin keel & spade rudder
Hull Material: GRP (Fibreglass)
Length Overall: 47'11" (14.6m)
Waterline Length: 42'10" (13.1m)
Beam: 15'9" (4.8m)
Draft: 7'5" (2.3m)*
Rig Type: Fractional sloop, with optional Solent Rig
Displacement: 27,690lb (12,560kg)
Ballast: 7,408lb (3,360kg)
Designer: Berret-Racoupeau
Builder: Hanse Yachts (Germany)
Year First Built: 2022
* Shallow draft version available: 5'9" (1.8m)
Hanse 460 Sailplan & Underwater Profile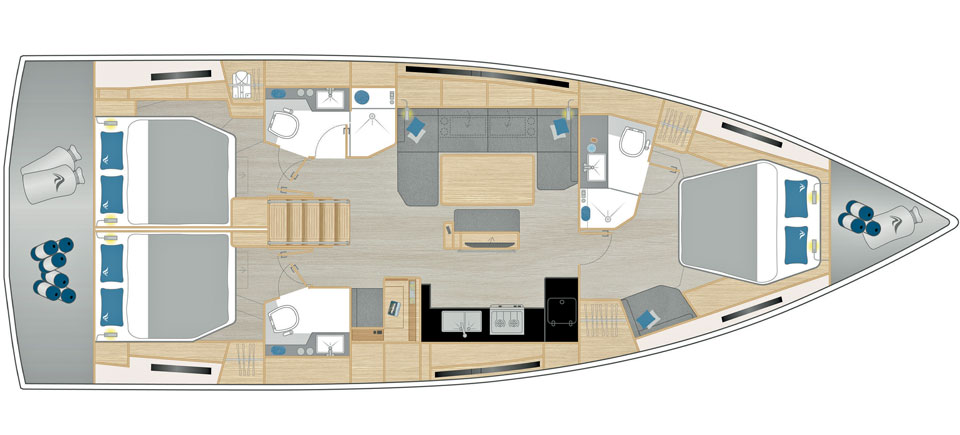 One of the interior layout options for the Hanse 460
Read more about the latest boats in the Hanse range...
Published Design Ratios for the Hanse 460
1. Sail Area/Displacement Ratio: 21.5
2. Ballast/Displacement Ratio: 26.9
3. Displacement/Length Ratio: 158
4. Comfort Ratio: 24.6
5. Capsize Screening Formula: 2.1
Summary Analysis of the Design Ratios for the Hanse 460
1. A Sail Area/Displacement Ratio of 21.5 suggests that, in the right hands, the Hanse 460 will have enough performance to leave most other sailboats of similar waterline length well astern. 
2. A Ballast/Displacement Ratio of 26.9 would usually mean that the Hanse 460 would have a tendency to heel uncomfortably in a gust, and need to be reefed early to keep her sailing upright in a moderate breeze.
However, as she has much of her ballast concentrated in a bulb at the foot of her L-shaped keel, she's likely to be considerably stiffer than her published Ballast/Displacement Ratio might suggest.
3. A Displacement/Length Ratio of 158 tells us the Hanse 460 is a light displacement sailboat. If she's loaded with too much heavy cruising gear her performance will suffer to a degree.
4. Ted Brewer's Comfort Ratio of 24.6 suggests that crew comfort of a Hanse 460 in a seaway is similar to what you would associate with the motion of a coastal cruiser with moderate stability, which is not the best of news for anyone prone to seasickness. 
5. The Capsize Screening Formula of 2.1 tells us that a Hanse 460 would not be as good a choice of sailboat for ocean passage-making, owing to the increased risk of capsize in strong winds and heavy seas when compared to a sailboat with a CSF of less than 2.0.
---
A Few FAQs...
The sailing press generally praised the Hanse 460 for its design, performance, space and comfort. For example, Yachting Monthly described it as "a powerful cruiser with plenty of space below" and "a well-balanced boat that is easy to handle". Yachting World called it "a big hit" and "a statement of design" that "offers an impressive amount of volume and light".
The Hanse 460 is still in production as of 2023, and is one of the latest models in the Hanse range. The exact number of Hanse 460s built is not publicly available, but according to Hanse Yachts UK, over 200 orders were placed within the first six months of its launch.
The Hanse 460 is available in different versions depending on the number of cabins, the keel type, and the sailplan. The standard version has three cabins and a utility room, but it can also be configured with four or five cabins. The keel options are a L-keel (medium or deep), a T-speed keel, or a shallow keel. The sailplan options are a self-tacking jib, a conventional jib (105% or 145%), or a code zero.
Owners of the Hanse 460 have also expressed their satisfaction with their boats, highlighting its features, quality and sailing experience. For instance, one owner said: "We are very happy with our new Hanse 460. It is a beautiful boat with a lot of space and comfort. It sails very well and fast, even in light winds. It is also easy to manoeuvre with the bow thruster and the electric winches. We love the modern design and the large windows that let in plenty of natural light."
The builders of the Hanse 460 are Hanse Yachts AG, a German company that was founded in 1990 by Michael Schmidt, a former Olympic sailor. The company started with a single model, the Hanse 291, and gradually expanded its range to include various sizes and types of sailing yachts. Today, Hanse Yachts AG is one of the largest yacht manufacturers in Europe, with over 600 employees and an annual turnover of over €100 million. The company is still in business and continues to produce innovative and high-quality yachts.

The number of people who can sleep on board a Hanse 460 depends on the cabin configuration chosen by the owner. The standard version has three cabins (one forward and two aft) and utility space that can be converted into a single berth. This means that up to seven people can sleep on board comfortably. However, if more berths are needed, the utility space can be replaced by another cabin (with a double or twin bed), or an additional cabin can be added in the saloon area. In this case, up to nine or ten people can sleep on board.

The sailplan and rig options for the Hanse 460 are designed to suit different sailing preferences and conditions. The standard sailplan consists of a mainsail with two reefs and a self-tacking jib on a furler, which makes sailing easy and convenient. However, if more performance or versatility is desired, the self-tacking jib can be replaced by a conventional jib (105% or 145%) that allows for better pointing and reaching. Alternatively, a code zero can be added to the sail inventory, which is a large and lightweight sail that can boost the speed in light winds or downwind angles. The rig options are a standard aluminium mast with two spreaders, or an optional carbon mast with three spreaders that reduces the weight and increases the stiffness.
The main difference between the standard (or owner's) version and the optional (or charter) version of the Hanse 460 is the number and layout of the cabins. The standard version has three cabins (one forward and two aft) and a utility space that can be used as a storage space, a workshop, or an extra berth. The optional (or charter) version has four or five cabins (two forward and two or three aft), which can accommodate more guests or crew. The other difference is that the standard version has a larger galley and a bigger fridge, while the optional version has a smaller galley and a smaller fridge to make room for the extra cabins.

The keel options for the Hanse 460 are designed to suit different sailing areas and draft requirements. The standard keel option is a L-keel with a medium draft of 2.25 m, which offers good stability and performance. However, if more draft is needed for better upwind performance or more stability in heavy weather, a deeper L-keel with a draft of 2.55 m can be chosen. Alternatively, if less draft is needed for shallow waters or easier access to marinas, a shallow keel with a draft of 1.75 m can be chosen. Another option is a T-speed keel with a draft of 2.4 m, which has a lower centre of gravity and less wetted surface area than the L-keel, resulting in higher speed and agility.
The average cost of a secondhand Hanse 460 depends on various factors such as the year of manufacture, the condition, the equipment, and the location of the boat. However, based on some online listings from different countries, it can be estimated that the average cost of a secondhand Hanse 460 ranges from €300,000 to €400,000.
The above answers were drafted by sailboat-cruising.com using GPT-4 (OpenAI's large-scale language-generation model) as a research assistant to develop source material; to the best of our knowledge, we believe them to be accurate.
---
Other sailboats in the Hanse range include:
Sep 29, 23 05:38 PM

Sailing characteristics and performance predictions, pics, specifications, dimensions and those all-important design ratios for the Hanse 400 sailboat...

Sep 29, 23 03:17 AM

Interested in the Gulf 32 sailboat? Here are the pics, specs and performance predictions you're looking for...

Sep 28, 23 04:04 PM

Sailing characteristics and performance predictions, pics, specifications, dimensions and those all-important design ratios for the Fuji 35 sailboat
---