The Hanse 388 Sailboat

Specs & Key Performance Indicators
The Hanse 388 is a 38-foot cruising sailboat that combines sporty performance, elegant design, and spacious comfort. Designed by Judel/Vrolijk & Co. and built by Hanse Yachts since 2017, the boat features a powerful rig, a fast hull, a large cockpit, and a bright interior with up to three cabins. She's easy to sail single-handed or with a small crew, thanks to the self-tacking jib and all lines being led to the helm.

The Hanse 388
Published Specification for the Hanse 388

Underwater Profile: L-shaped bulb fin keel & spade rudder
Hull Material: GRP (Fibreglass)
Length Overall: 37'5" (11.4m)
Waterline Length: 34'2" (10.4m)
Beam: 12'9" (3.9m)
Draft: 6'8" (xm)
Rig Type: Fractional sloop
Displacement: 17,835lb (8,090kg)
Ballast: 5,269lb (2,390kg)
Designer: Judel/Vrolijk & Co
Builder: Hanse Yachts (Germany)
Year First Built: 2017
---
Published Design Ratios for the Hanse 388
1. Sail Area/Displacement Ratio: 18.2
2. Ballast/Displacement Ratio: 29.6
3. Displacement/Length Ratio: 201
4. Comfort Ratio: 26.3
5. Capsize Screening Formula: 1.9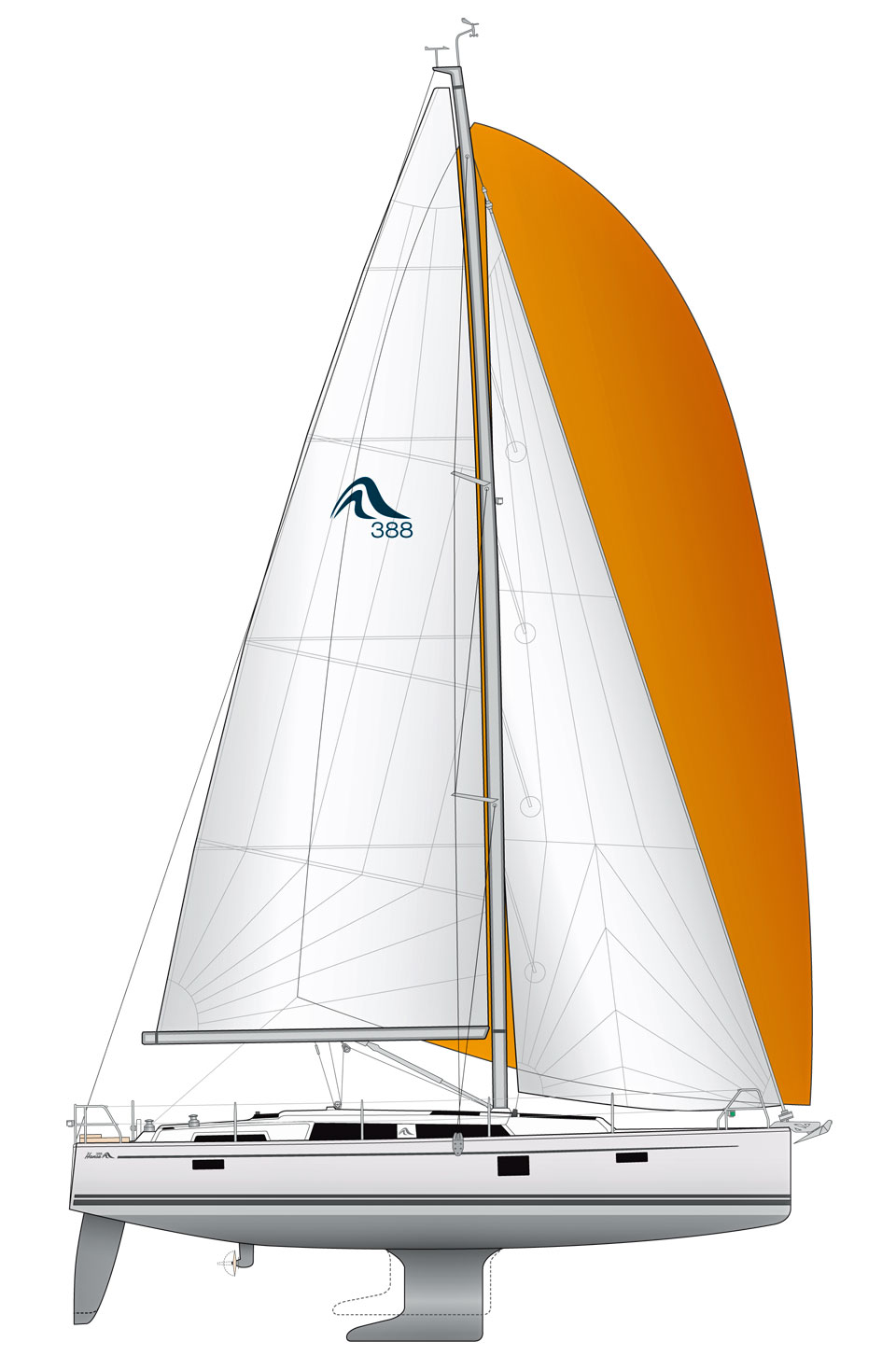 Hanse 388 sailplan & underwater profile

One of the several interior layout options for the Hanse 388
Read more about the latest boats in the Hanse range...
Summary Analysis of the Design Ratios for the Hanse 388
1. A Sail Area/Displacement Ratio of 18.2 suggests that the Hanse 388 will, in the right conditions, approach her maximum hull speed readily and satisfy the sailing performance expectations of most cruising sailors.
2. A Ballast/Displacement Ratio of 29.6 would usually mean that the Hanse 388 would have a tendency to heel uncomfortably in a gust, and need to be reefed early to keep her sailing upright in a moderate breeze.
However, as she has much of her ballast concentrated in a bulb at the foot of her keel, she's likely to be considerably stiffer than her published Ballast/Displacement Ratio might suggest.
3. A Displacement/Length Ratio of 201 tells us the Hanse 388 is a moderate displacement cruiser, which means she'll carry all your cruising gear without it having a dramatic effect on her performance. Most of today's sailboats intended for offshore cruising fall into this displacement category.
4. Ted Brewer's Comfort Ratio of 26.3 suggests that crew comfort of a Hanse 388 in a seaway is similar to what you would associate with the motion of a coastal cruiser with moderate stability, which is not the best of news for anyone prone to seasickness. 
5. The Capsize Screening Formula (CSF) of 1.9 indicates that a Hanse 388 would be a safer choice of sailboat for an ocean passage than one with a CSF of more than 2.0. 
---
---
Any Questions?
Yes, the Hanse 388 is still in production as of 2023. The exact number of boats built is not publicly available, but according to the Hanse Yachts website, there are over 10,000 Hanse owners worldwide.

The Hanse 388 is based on the same hull as the previous model, the Hanse 385, which was launched in 2012. The main differences between the two models are the larger hull windows, the deeper keel, the redesigned deck and cockpit, and the updated interior of the Hanse 388.
Owners of the Hanse 388 seem to be very satisfied with their boats, according to online forums and blogs. They appreciate the boat's speed, stability, ease of handling, spaciousness, and quality of construction. Some of the common issues or complaints that owners mention are related to the engine noise, the fuel capacity, the water supply range, and some minor defects or glitches.
The Hanse 388 can sleep up to seven people on board, depending on the cabin layout chosen. The standard layout offers two double cabins (one forward and one aft) and a convertible saloon that can accommodate one or two people. The optional layout offers three double cabins (two aft and one forward) and a convertible saloon that can accommodate one person.
The standard sailplan for the Hanse 388 consists of a fractional sloop rig with a self-tacking jib and a mainsail with two reefs. The total sail area is 69m2. The optional sailplan offers a larger self-tacking jib (32m2 instead of 29m2), a genoa (38m2 instead of 29m2), or a gennaker (105m2). The optional rig also offers a taller mast (16.55m instead of 16.15m) and an increased sail area (74m2 instead of 69m2).
The Hanse 388 offers two keel options: a shallow keel with a draft of 1.62 m and a displacement of 8,660 kg, or a deep keel with a draft of 2.06 m and a displacement of 8,270 kg. The shallow keel is suitable for sailing in shallow waters or areas with tidal restrictions, while the deep keel offers better performance and stability in deeper waters or stronger winds.
The Hanse 388 is a pleasure to sail, according to the sailing press and owners. It is fast, responsive, balanced, and easy to control. It can handle a wide range of wind and sea conditions, from light airs to strong gusts. It has a good sail area-to-displacement ratio, a low centre of gravity, and a high righting moment. It also has a self-tacking jib and all lines led to the helm, which makes it ideal for short-handed sailing or cruising with a small crew.
The Hanse 388 is a competitive sailboat in its class, which includes other popular models such as the Beneteau Oceanis 38.1, the Jeanneau Sun Odyssey 389, the Bavaria Cruiser 37, and the Dufour 382. Compared to these boats, the Hanse 388 offers a similar or slightly larger size, sail area, and accommodation space. It also offers a distinctive design, a high level of customization, and a good balance between performance and comfort.

The above answers were drafted by sailboat-cruising.com using GPT-4 (OpenAI's large-scale language-generation model) as a research assistant to develop source material; to the best of our knowledge, we believe them to be accurate.
---
Other sailboats in the Hanse range include:
Sep 29, 23 05:38 PM

Sailing characteristics and performance predictions, pics, specifications, dimensions and those all-important design ratios for the Hanse 400 sailboat...

Sep 29, 23 03:17 AM

Interested in the Gulf 32 sailboat? Here are the pics, specs and performance predictions you're looking for...

Sep 28, 23 04:04 PM

Sailing characteristics and performance predictions, pics, specifications, dimensions and those all-important design ratios for the Fuji 35 sailboat
---