The Hanse 508 Sailboat

Specs & Key Performance Indicators
The Hanse 508, a fractional sloop, was designed by Judel/Vrolijk & Co and built in Germany by Hanse Yachts.

A Solent Rigged Hanse 508 sailboat flying an asymmetric spinnaker
Published Specification for the Hanse 508
Underwater Profile: L-shaped bulb fin keel & spade rudder
Hull Material: GRP (Fibreglass)
Length Overall: 51'0" (15.6m)
Waterline Length: 44'5" (13.5m)
Beam: 15'7" (4.8m)
Draft: 7'10" (2.4m)
Rig Type: Solent Rig
Displacement: 32,408lb (14,700kg)
Ballast: 8,929lb (4,050kg)
Designer: Judel/Vrolijk & Co
Builder: Hanse Yachts (Germany)
Year First Built: 2018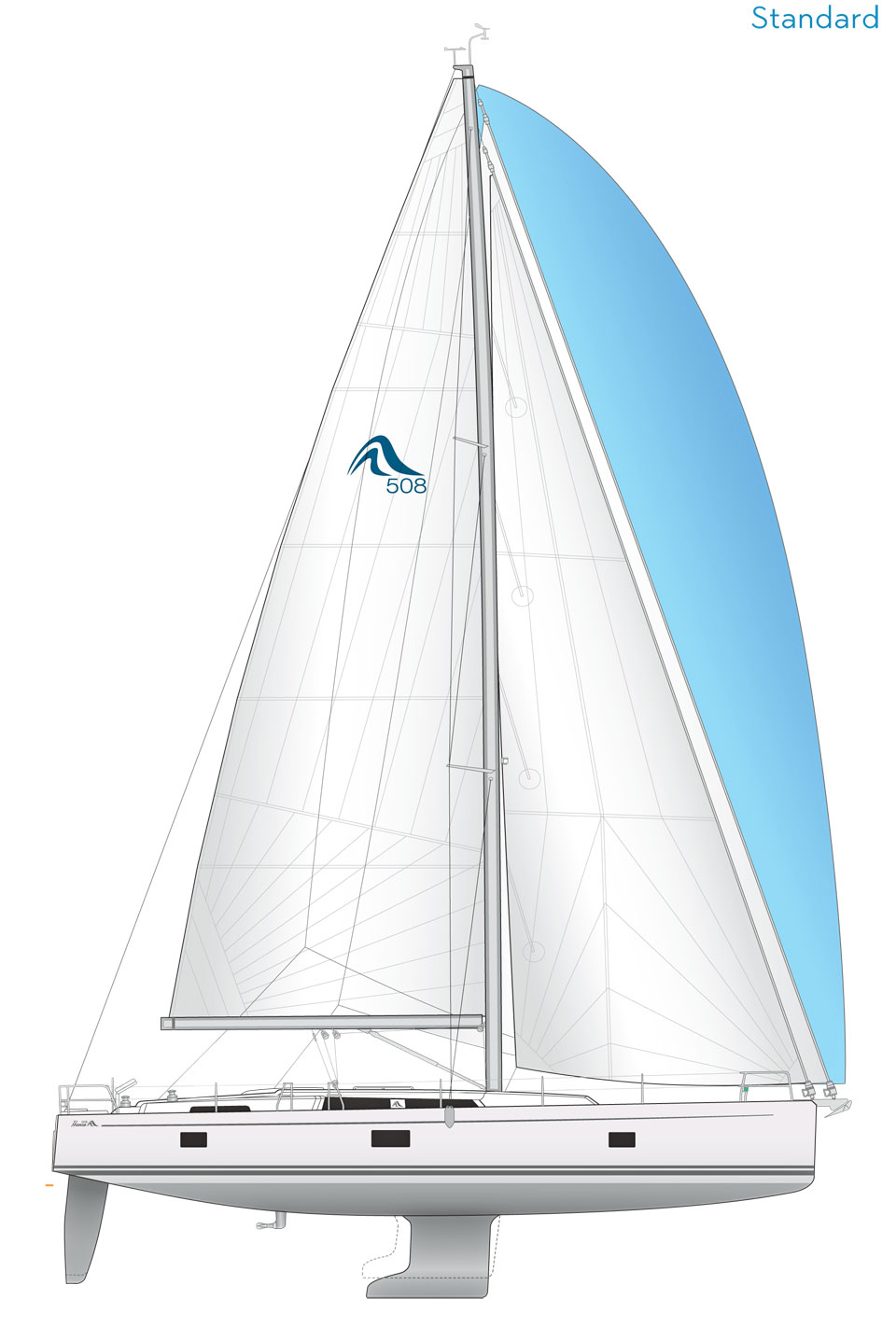 The Hanse 508 Sailplan & Underwater Profile
One of the several Interior Layout Options available on the Hanse 508
Read more about the latest boats in the Hanse range...
Published Design Ratios for the Hanse 508
1. Sail Area/Displacement Ratio: 20.1
2. Ballast/Displacement Ratio: 27.6
3. Displacement/Length Ratio: 165
4. Comfort Ratio: 27.9
5. Capsize Screening Formula: 1.9
Summary Analysis of the Design Ratios for the Hanse 508
1. A Sail Area/Displacement Ratio of 20.1 suggests that, in the right hands, the Hanse 508 will have enough performance to leave most other sailboats of similar waterline length well astern. 
2. A Ballast/Displacement Ratio of 27.6 would usually mean that the Hanse 508 would have a tendency to heel uncomfortably in a gust, and need to be reefed early to keep her sailing upright in a moderate breeze.
However, as she has much of her ballast concentrated in a bulb at the foot of her L-shaped keel, she's likely to be considerably stiffer than her published Ballast/Displacement Ratio might suggest.
3. A Displacement/Length Ratio of 165 tells us the Hanse 508 is a light displacement sailboat. If she's loaded with too much heavy cruising gear her performance will suffer to a degree.
4. Ted Brewer's Comfort Ratio of 27.9 suggests that crew comfort of a Hanse 508 in a seaway is similar to what you would associate with the motion of a coastal cruiser with moderate stability, which is not the best of news for anyone prone to seasickness. 
5. The Capsize Screening Formula (CSF) of 1.9 indicates that a Hanse 508 would be a safer choice of sailboat for an ocean passage than one with a CSF of more than 2.0.
---
Any Questions?
The Hanse 508 has a spacious and modern interior with plenty of natural light from the large portholes. The standard layout offers five double cabins, three heads, a large saloon with a U-shaped galley and a navigation station, and a separate skipper's cabin in the bow. The cabins have comfortable beds, ample storage space, and ventilation hatches.
The Hanse 508 offers various options to customize the interior layout according to the owner's preferences. For example, the forward cabin can be split into two smaller cabins or converted into a master suite with an ensuite head and shower. The aft cabins can also be configured as single or double berths. The saloon can have a different seating arrangement or a foldable table. The galley can be moved to the port side or aft of the saloon.
The Hanse 508 has a powerful sail plan with a fractional rig, a 9/10 aluminum mast, and two sets of swept-back spreaders. The standard sail area is 119 m2, consisting of a large overlapping genoa and a fully battened mainsail with lazy jacks and a stack pack. The optional Furling mainsail version has a self-tacking jib and a furling mainsail with vertical battens. The Hanse 508 also offers various options for performance sails, such as gennakers, code zeros, or asymmetric spinnakers.
The Hanse 508 has two keel options: Shoal draft and Medium draft. The Shoal draft version has a cast iron L-shaped keel with a draft of 2.05 m. The Medium draft version has a cast iron L-shaped keel with a draft of 2.40 m.

The Hanse 508 is a fast and comfortable cruising sailboat that can handle various wind and sea conditions. She has a well-balanced hull design that provides stability and agility, as well as good upwind performance and speed potential. She is easy to sail single-handed or with a small crew, thanks to her self-tacking jib, furling mainsail, electric winches, and bow thruster options. She also has a spacious cockpit with twin helms, an electric folding transom platform, and plenty of seating and storage space.
The average cost of a secondhand Hanse 508 depends on the year, condition, equipment, and location of the boat. Based on the listings on YachtWorld, the price range for a used Hanse 508 is between £325,448 (2020 model in Spain) and £632,080 (2021 model in Denmark)
Yes, this boatbuilder is still in business. Hanse Yachts is one of the largest yacht manufacturers in Europe, based in Greifswald, Germany. It was founded in 1990 by Michael Schmidt, a former Admiral's Cup winner. It produces sailing yachts ranging from 31 to 67 feet under the Hanse brand, as well as motor yachts under the Sealine and Fjord brands.
This designer is Judel/Vrolijk & Co., one of the most renowned naval architecture firms in the world, based in Bremerhaven, Germany. It was founded in 1978 by Rolf Vrolijk and Fietje Judel, who are both experienced sailors and yacht racers. They have designed many successful sailboats for racing and cruising, such as the TP52, the Volvo Ocean 65, the Dehler 38, the Baltic 142, and the entire Hanse range.
The above answers were drafted by sailboat-cruising.com using GPT-4 (OpenAI's large-scale language-generation model) as a research assistant to develop source material; to the best of our knowledge, we believe them to be accurate.
---
Other sailboats in the Hanse range include:
Nov 29, 23 08:35 AM

Here's where people with sailing equipment for sale advertise their stuff entirely free of charge. If you're looking for used sailing gear or other used boating accessories, here's where to find it!

Nov 10, 23 02:34 AM

My 47' Cheoy Lee sailboat is for sale. Designed by Bill Luders, she is a beautiful and functional liveaboard cruising yacht.

Oct 30, 23 04:22 PM

This article explores the journey of chartering a sailing yacht, from the initial planning stages to the final touches. It provides insight into the joys and challenges of embarking on a voyage of dis…
---