Bluewater Cruising Yacht for Sale
'Shindig', my Custom Designed Bluewater Cruising Yacht for Sale

by Andrew Simpson - her owner, designer and builder
Having now reached the age at which the best of my cruising years are well astern, I have reluctantly decided to offer Shindig, my bluewater cruising yacht for sale.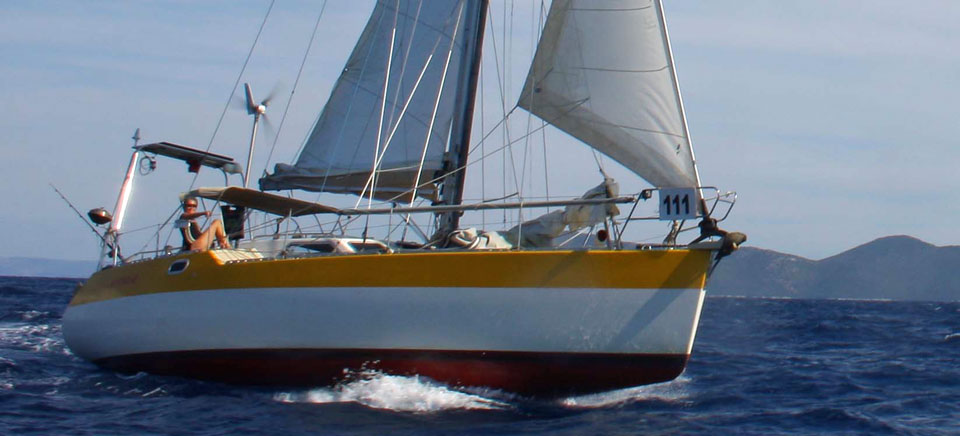 Shindig - Every bit a performance cruiser!
Shindig was designed around the exact requirements of my wife and I, which we settled on as:
The boat would be of a size easily handled by two people, neither of who would get any younger.
Displacement should be light enough to ensure good performance. If anything, fast passage times are more useful to voyagers than racers who can win on handicap even if they're last across the line.
Since for the most part there would be only my wife and myself on board, the interior shouldn't be split into a number of claustrophobic compartments to provide superfluous sleeping accommodation.
The cockpit would be spacious and with tiller steering. Wheel steering is heavy, expensive and mechanically vulnerable – not what we wanted offshore.
The winches (manual self-tailing) should be positioned where they could be operated with least strain.
There should be good, virtually all-round, visibility from below – a useful refuge in times of bad weather.
The rig should be exceptionally sturdy; the sail plan designed for easy handling rather than ultimate efficiency.
All fastenings should be accessible, all secondary fixtures removable. In my years spent repairing other people's boats, inaccessibility has been a recurring curse.
Simplicity and pragmatism were key words in the design process.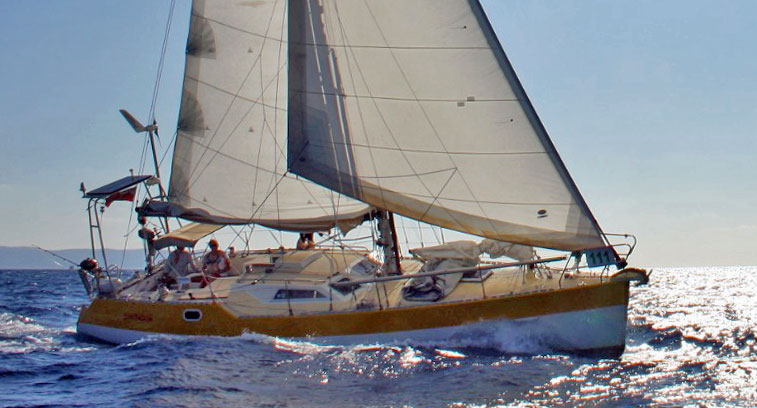 'Shindig' making good progress under her high-cut headsail and reefed mainsail.

Key Features of Shindig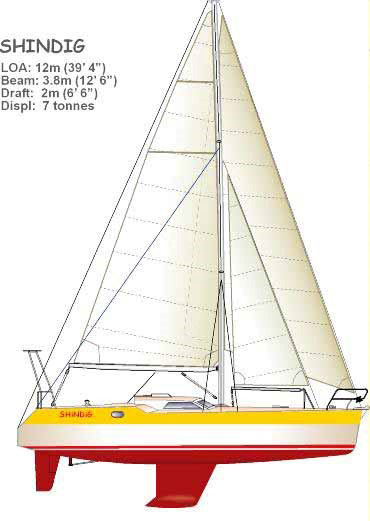 Shindig's Principal Dimensions
Below Decks
The layout follows the simplicity theme. The accommodation as a whole is very open-plan. With the exception of a few lockers, these being heavy and having a tendency to squeak or rattle.
Privacy, such as it is, is gained by curtains – light in weight and allowing air to circulate and ventilate almost all corners of the interior space. The result? Almost a complete absence of mildew – a recurrent problem for more pigeonholed designs.


Shindig's accommodation layout
Starting from forward, there's a 2m long compartment that usually serves as a sail locker. When emptied of its clutter – a task as formidable as dredging a harbour – this doubles as spacious guest accommodation for a sailing couple. Individual guests can either luxuriate alone in the bow or occupy the sea berth beneath the chart table. Most choose the latter.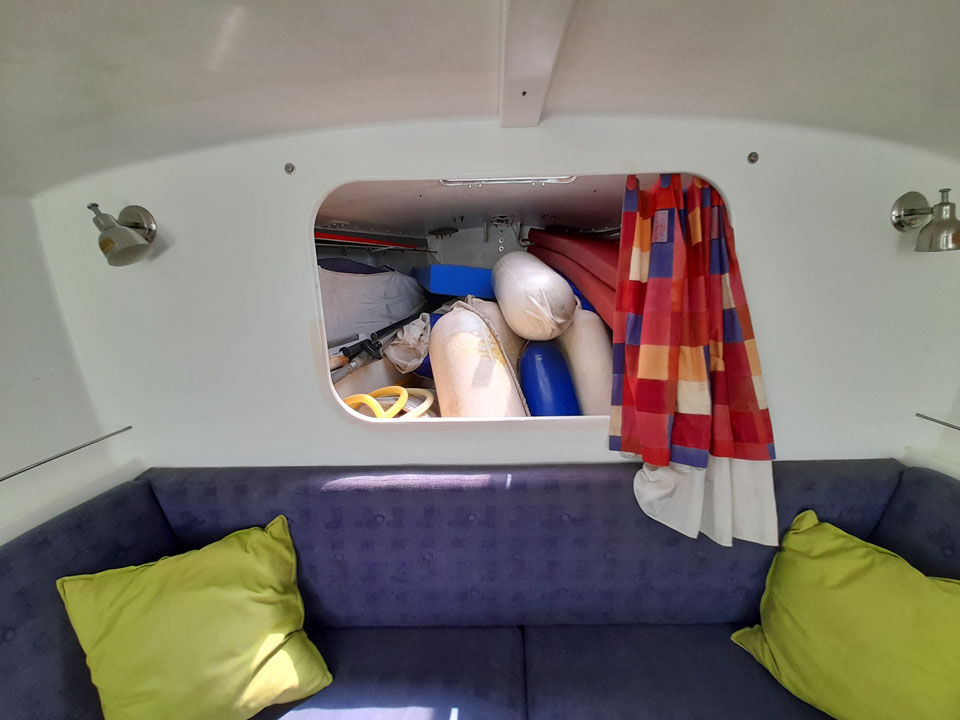 The forepeak
Proceeding aft is the main saloon area with wrap-around seating as can be seen in the accommodation layout. This is a delightfully convivial space which can seat up to ten people – more at a pinch. The settees can also serve as bunks.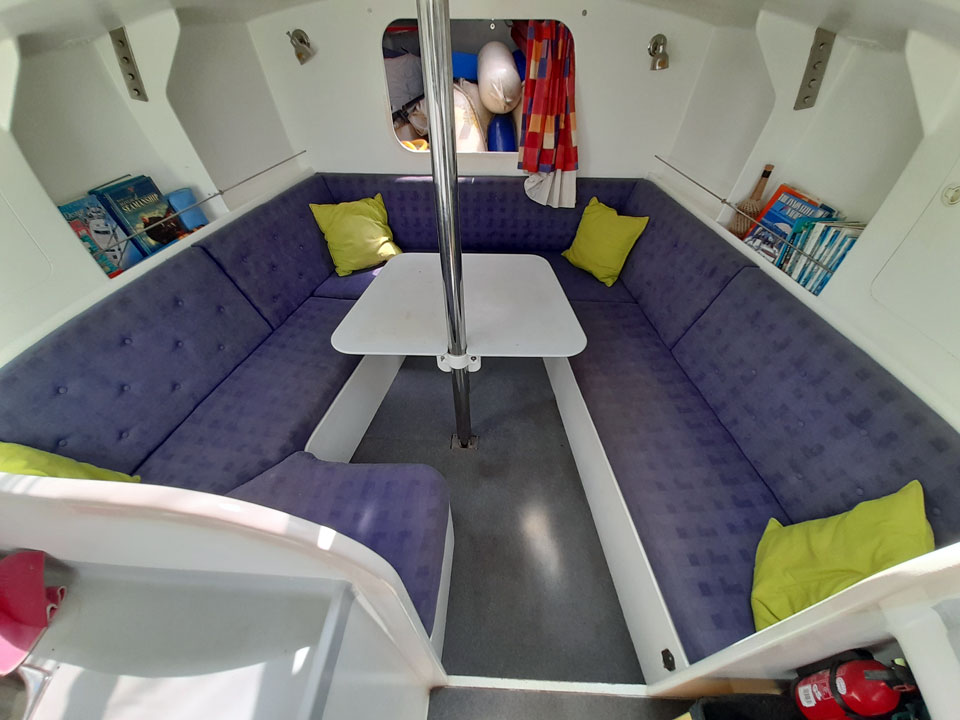 U-shaped seating in the saloon
Astern of the saloon is the galley area to port. Though not quite as spacious as our shore-based kitchen at home, it ranks pretty close. There is also a top-loaded refrigerator and icemaker and a stand-up chart table opposite to starboard.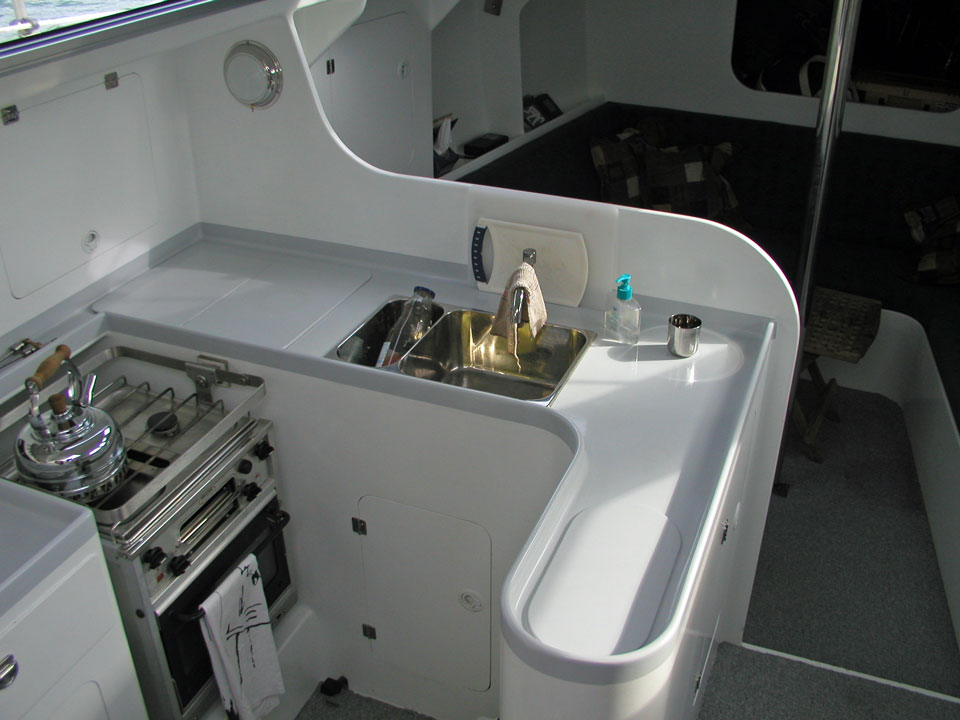 The galley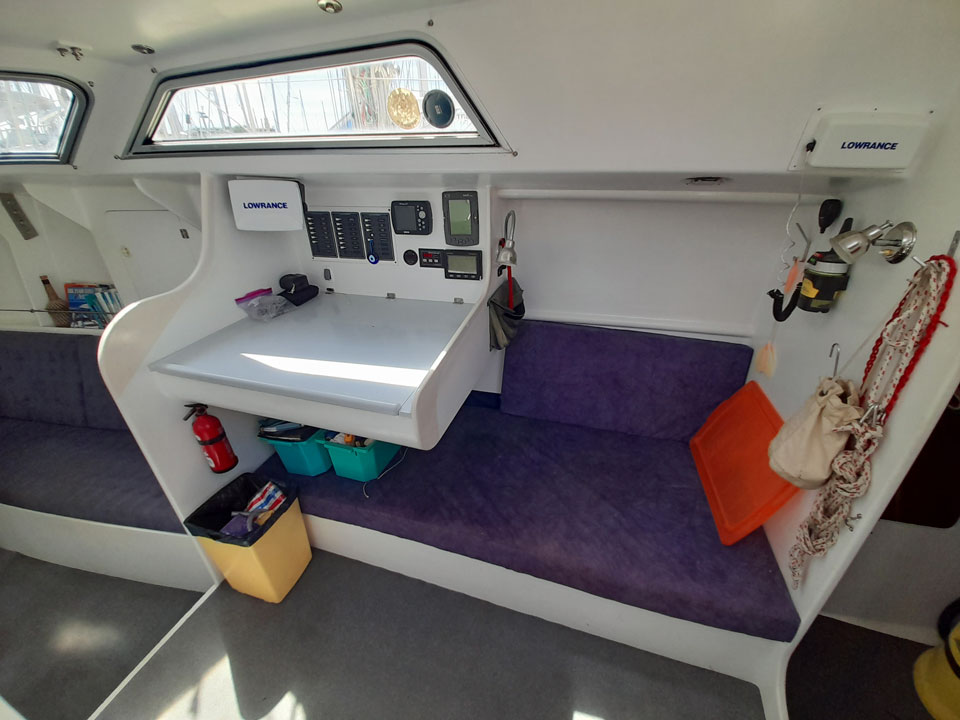 The stand-up chart table with a single berth extending below
The 'owners' cabin' aft to starboard has a large double berth – with stand-up headroom and a bunk large enough to sleep athwartships if conditions demand.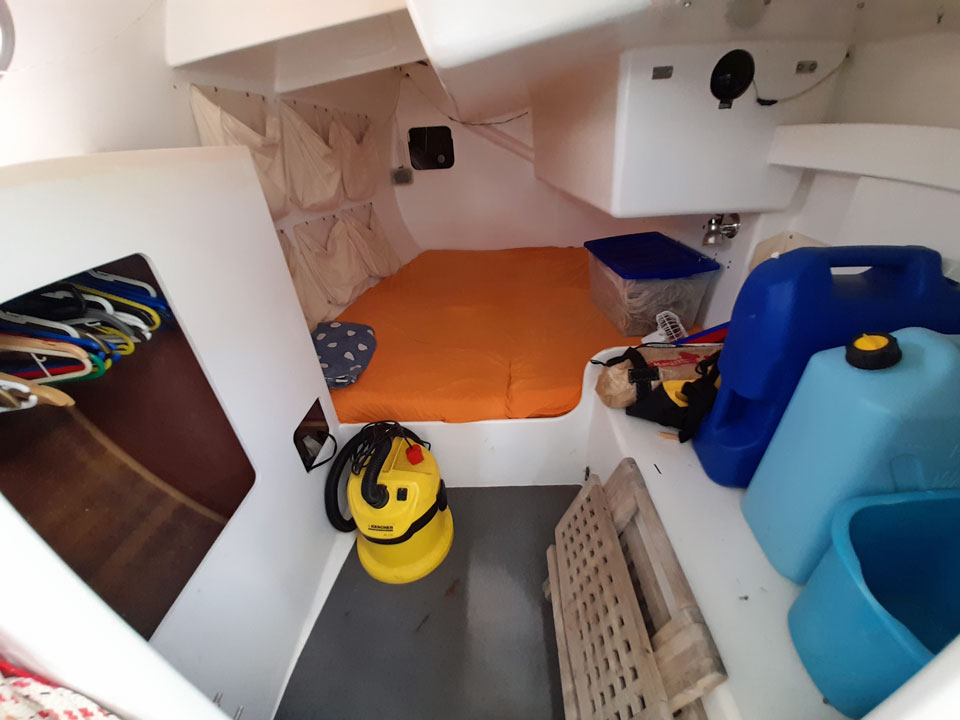 The aftcabin
Opposite to port is the heads compartment with a huge space for storage immediately behind it. Apart from general stowage our Katadyn reverse osmosis watermaker lives there.

The Aft Cockpit
Centre cockpits work fine on larger boats - say 50ft and upwards – but, on anything smaller, they squander that part of the interior space better used for accommodation.
Centre cockpits also bring unwanted complexity to steering systems, including windvane self-steering. Even fishing is made more awkward.

Steering is by tiller – true to the simplicity theme. It's light on the helm and integrated easily with the Monitor self-steering gear.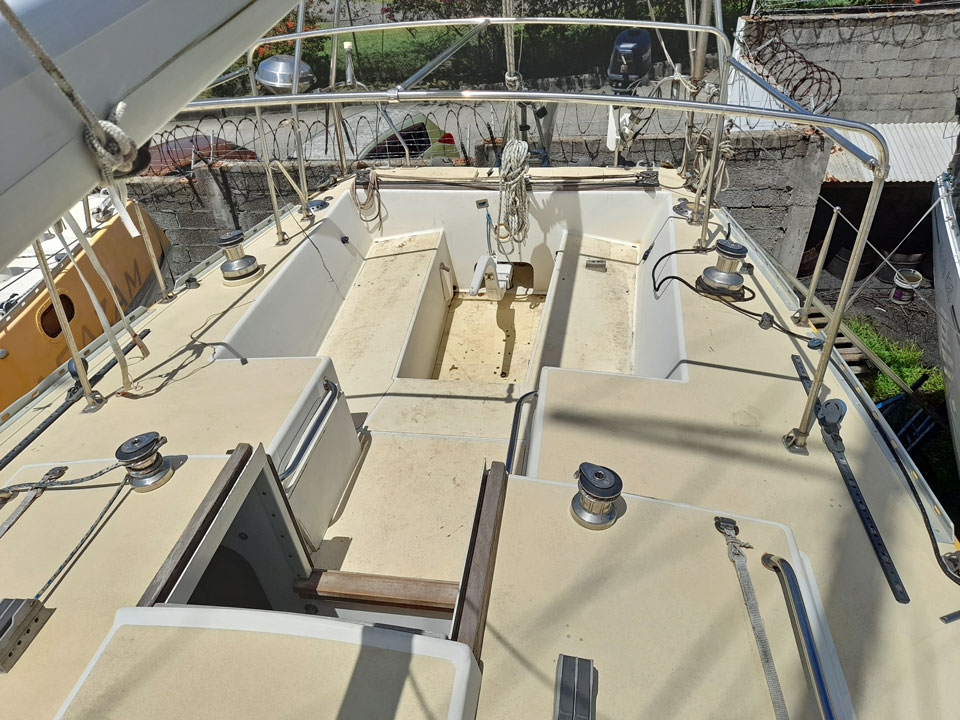 Cockpit and main hatch
Keel & Rudder
The keel is a moderate aspect ratio fin with a flared bulb at the bottom to lower its centre of gravity.
The single rudder is semi-balanced and hung on a partial skeg. My first preference was to go for twin rudders but that would have meant the loss of prop-wash over the blades when under power would have reduced manoeuvrability when it was most needed. One downside of light displacement boats is that they can be a bit skittish in breezy conditions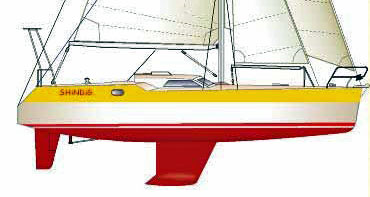 Hull profile
Rig & Sailplan
Shindig can be sailed either as a sloop or cutter. There was a once fashion of describing such rigs as 'slutters' – not a word of great charm, now thankfully fallen into disuse.
By some standards the sail area is modest – easiness of handling being a priority. Thanks to her light displacement and slippery hull form, her performance is respectable. We once achieved 13 knots on a broad reach – not to be sniffed at, I'm sure you agree.
The twin spreader rig is massively strong, with oversized 1 x 19 stainless wire tensioned with chromed bronze and stainless steel rigging screws.
Dismastings belong in the dangerous to catastrophic category of sailing mishaps, so we have done what we can to minimise the risk.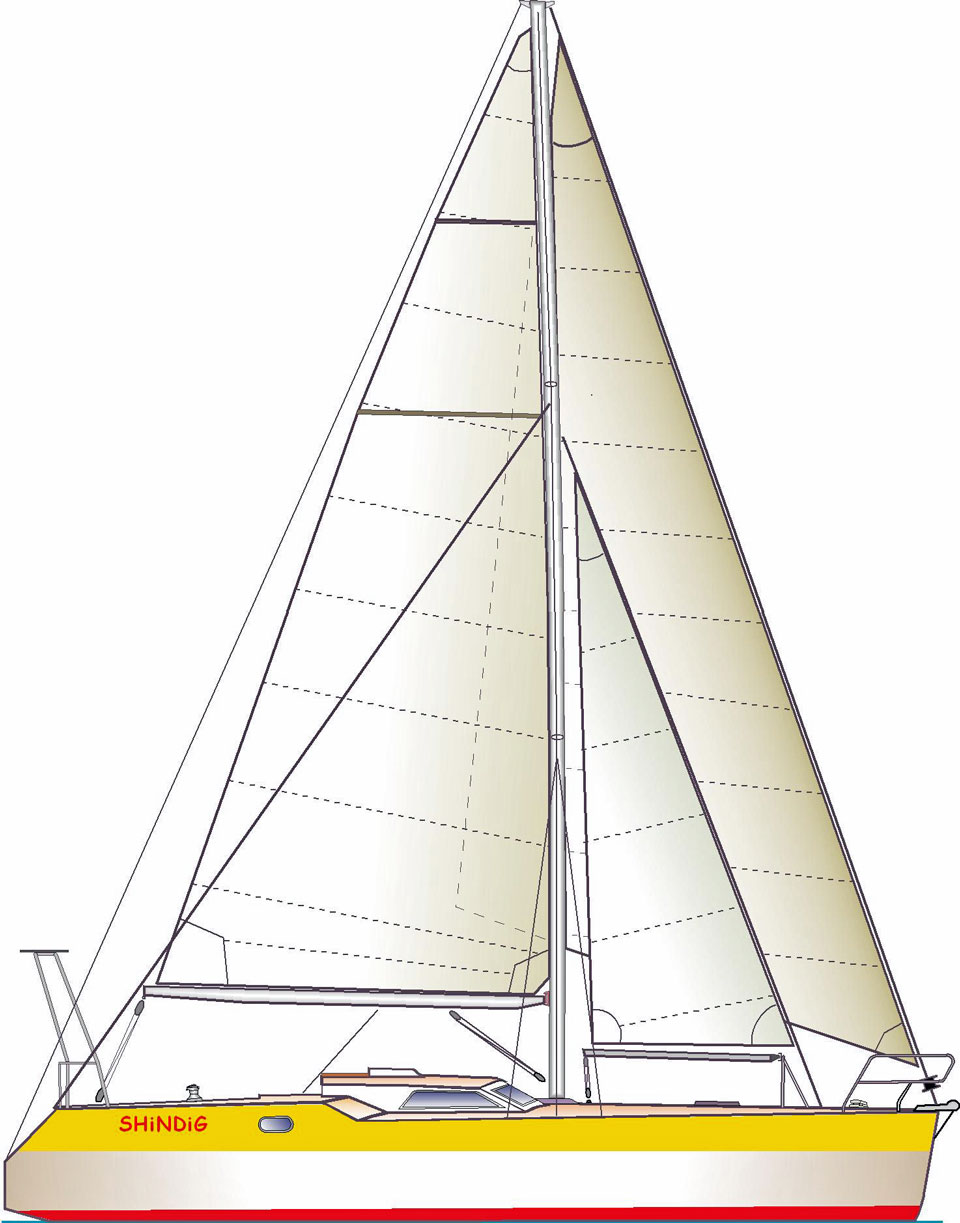 The sailplan: High-cut jib on furler, club-footed staysail & slab reefing mainsail
Mainsail
The main is loose footed and made from Marblehead sailcloth, woven by Bob Bainbridge in the US. This is a premier grade cloth intended for bluewater cruising. For stretch resistance it relies on an exceptionally tight weave (the tightest in the world they claim) rather than the cheap-and-cheerful resin impregnation favoured by budget sailmakers.
After 12 years (admittedly mostly in the Meditteranean where you spend more time under power than sail) the mainsail is in remarkably good shape – both literally and in terms of general condition.
In my view you should buy the best sails you can afford. The pain eases when you see how much longer they last!

One peculiarity of the mainsail is that it has two full length battens in its head and none beneath.
Headsail
With its high cut clew this form of cut is known as 'jib-headed'. It's not as efficient to windward as a deck-sweeping genoa but is a great reaching sail. It's also good downwind for tradewind sailing.
Twinned with another identically shaped sail the high clews minimise the risk of them dipping into the water as the boat rolls.

The second sail is of a much lighter cloth – a ripstop polyester, usually used for dinghies. Both sails can be run up the same roller reefing foil meaning they can be reefed simultaneously from the cockpit. Ideal for downwind sailing if you're reluctant to hoist a spinnaker,
Staysail
The staysail comes into its own in stronger wind conditions. The sail itself is of heavy sailcloth and is carried on a self-tacking boom. Setting the sail calls for a trip to the foredeck but, once set, all tacking and trimming can be done from the cockpit.
Occasionally, on a beam reach or broader we can sail Shindig as a cutter but tend not to. Either with the main deep reefed or a storm trysail, this is our heavy weather canvas. That's to say we don't carry a dedicated storm jib.
Reefing
The headsail roller reefs onto a Harken gear – a wonderful bit of kit.
However, I'm very wary of mainsail roller reefing – notoriously fallible devices. To have a mainsail jam in the mast slot is not something I want even a slim chance of.
Instead, we use a twin line system that can be worked, either single- or double-handed, from the mast or from the cockpit. This is an utterly reliable arrangement with very little risk of screw-ups.
Mechanical
Shindig is powered by a 58HP Yanmar 3JH, which consumes around 3 litres/hour at a cruising speed of 6 knots.
Drive is delivered via a shaft and provided by a 3-bladed Flex-O-Fold propellor.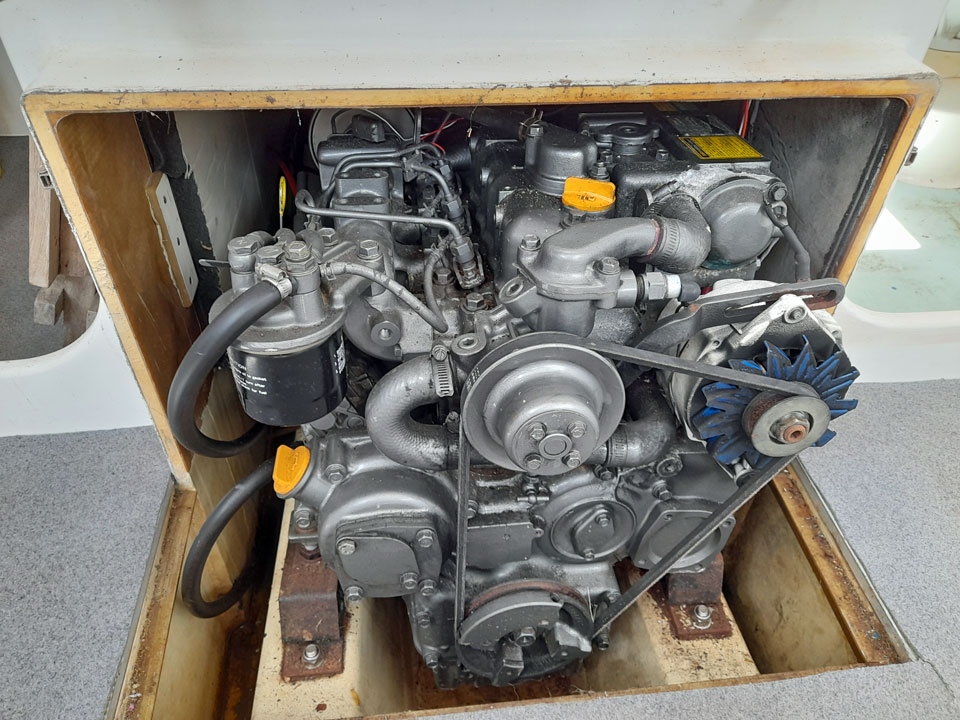 58HP Yanmar 3JH marine diesel engine
Water ballast
There's one more feature I should mention: water ballast. By which 380kg (850lb) of seawater can be transferred from side to side or emptied or filled – all with a single pump. This is equivalent to about five crew perched on the rail – crew you don't have to feed.
I'll leave you to figure out how it works but work it certainly does! Whether it's worth the associated complexity is open to debate. The reality is we rarely bother to use it.
It would be a relatively simple matter to remove the plumbing and convert the tanks to stowage compartments.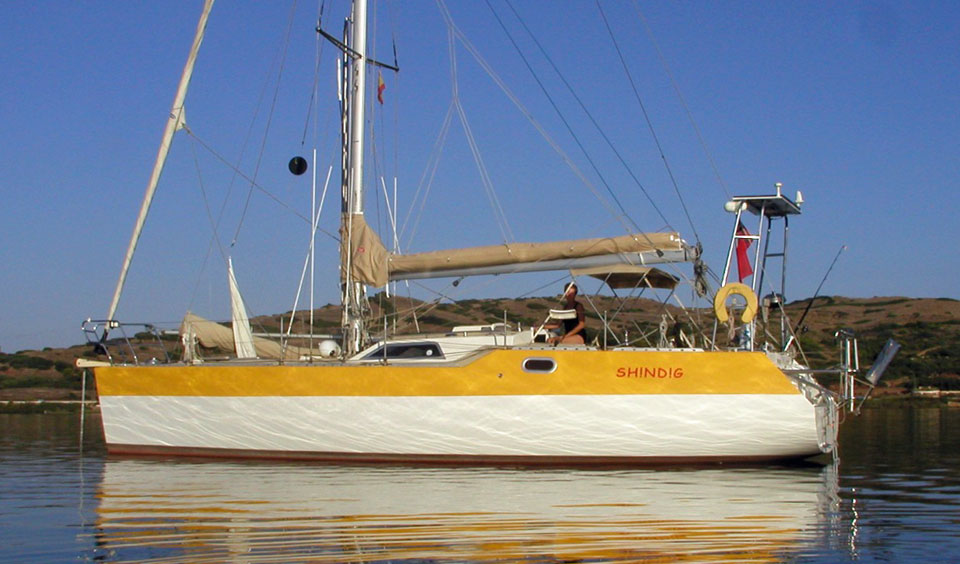 Even at anchor she looks quick!
Asking Price & Contacting the Owner's Representative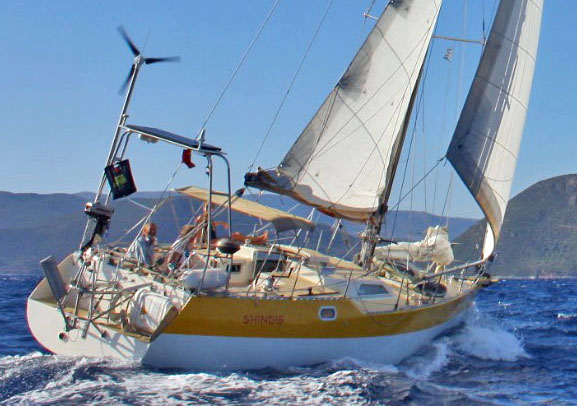 Shindig heading home
I'm asking $75,000 for 'Shindig'.
If you'd like more information about my unique sailboat or would like to be Shindig's new owner, please contact my on-site representative Mike Dye of Boatshed Grenada on +1 473 418 7435 or email him at michaeldye@boatshedgrenada.com
Andrew Simpson
Sailboat-Cruising.com says...
Incidentally, if 'Shindig' seems familiar to you it may be because my boat 'Alacazam', pictured at the head of this page, was also designed by Andrew Simpson. 
Andrew is a close pal of mine and has been so for many years; he's a professional marine surveyor, a yacht designer and boat builder with over 50 years of experience.
He's also a highly regarded yachting journalist and an offshore sailor with tens of thousands of sea miles under his keel, so it's fair to say he knows a thing or two about sailboats.
Andrew tells me that 'Shindig' is faster than 'Alacazam' - but then he would say that, wouldn't he?
Dick McClary, Owner/Creator of sailboat-cruising.com
Oct 02, 23 12:17 PM

It's true that the ketch sailboat with its split rig can make an attractive cruising sailboat for a short-handed crew, but there is a downside to these types of sailboats

Oct 02, 23 08:47 AM

Thinking of buying a Hanse 548 sailboat? Perhaps you should first take a look at these pics, specs and key performance indicators...

Oct 02, 23 04:56 AM

Thinking of buying a Hanse 458 sailboat? Perhaps you should first take a look at these pics, specs and key performance indicators...
---