The Dehler 38 Sailboat

Specs & Key Performance Indicators
The Dehler 38, a light-displacement fractional sloop, was designed by EG Van de Stadt and built in Germany by Dehler Yachts.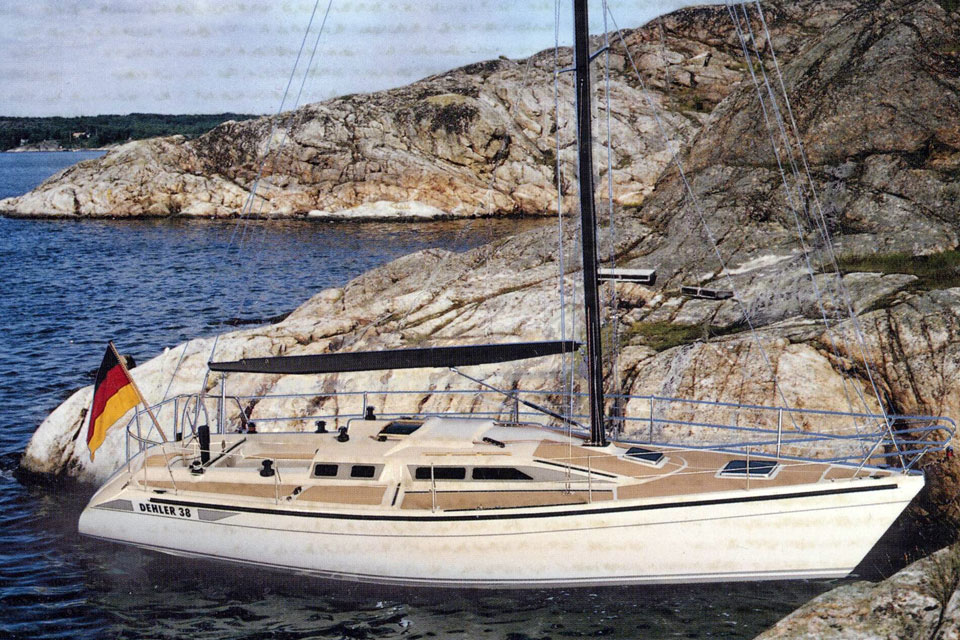 The Dehler 38
Published Specification for the Dehler 38

Underwater Profile: Fin keel & spade rudder
Hull Material: GRP (Fibreglass)
Length Overall: 38'9" (11.8m)
Waterline Length: 31'6" (9.6m)
Beam: 12'6" (3.8m)
Draft: 6'3" (1.9m)
Rig Type: Fractional sloop
Displacement: 12,125lb (5,500kg)
Ballast: 2,800lb (1,270kg)
Designer: E. G. Van de Stadt
Builder: Dehler Yachts (Germany)
Year First Built: 1987
---
Published Design Ratios for the Dehler 38
1. Sail Area/Displacement Ratio: 19.1
2. Ballast/Displacement Ratio: 23.1
3. Displacement/Length Ratio: 173
4. Comfort Ratio: 19.4
5. Capsize Screening Formula: 2.2
Summary Analysis of the Design Ratios for the Dehler 38
1. A Sail Area/Displacement Ratio of 19.1 suggests that the Dehler 38 will, in the right conditions, approach her maximum hull speed readily and satisfy the sailing performance expectations of most cruising sailors.
2. A Ballast/Displacement Ratio of 23.1 means that a sailboat like this Dehler 38 (which, unlike most later Dehlers, doesn't have a stiffness-enhancing bulb keel), is likely to benefit from being reefed early to keep her sailing upright in a moderate breeze.
3. A Displacement/Length Ratio of 173 tells us the Dehler 38 is a light displacement sailboat. If she's loaded with too much heavy cruising gear her performance will suffer to a degree.
4. Ted Brewer's Comfort Ratio of 19.4 suggests that the Dehler 38 will have the motion underway to that of a lightweight racing boat. Crew comfort will often be memorable for all the wrong reasons. Upwind in lively conditions the Dehler 38 will slam enough to shake your fillings out with a motion that most cruising sailors have no desire to get used to.
5. The Capsize Screening Formula of 2.2 tells us that a Dehler 38 would not be as good a choice of sailboat for ocean passage-making, owing to the increased risk of capsize in strong winds and heavy seas when compared to a sailboat with a CSF of less than 2.0.
Check out the latest sailboats in the Dehler range...
---
---
More about the Dehler 38...
The Dehler 38 can perform well on the race course and offer comfort and convenience for cruising. It was designed by the renowned Dutch naval architect E. G. Van de Stadt and built by Dehler Yachts, a German company known for its innovative and quality products. The Dehler 38 was launched in 1987 and quickly gained popularity among recreational sailors who appreciated its speed, handling and versatility
The Dehler 38 was available with different options for racing or cruising, such as taller mast, or a deeper keel, and different interior layouts. The boat also featured an integrated alloy space frame and Kevlar reinforcement in the hull to increase strength and reduce weight.
The Dehler 38 sail and interior layout plans
Accommodation
The Dehler 38 can accommodate up to six people in three separate cabins: a forward cabin with a V-berth, a main cabin with two settees that can convert to berths, and an aft cabin with a double berth. The boat has one head with a shower located aft to starboard. The galley is located to port and has a two-burner stove, an oven, a sink, and a refrigerator. The navigation station is opposite the galley and has a chart table, an instrument panel, and a seat. The dining area is in the main cabin and has a folding table that can seat six people.
The interior of the Dehler 38 is bright and spacious, thanks to the large windows, hatches, and skylights. The boat has ample storage space in lockers, drawers, and shelves throughout.
Hull and Deck
The hull of the Dehler 38 is made of fiberglass with Kevlar reinforcement in high-stress areas. The hull shape is optimized for performance under the IOR rating system, with a relatively beamy midsection and generous overhangs.
The deck of the Dehler 38 is also made of fiberglass with an integrated alloy space frame for stiffness and rigidity. The deck has a non-skid surface and teak trim on the cockpit seats and coamings. The deck layout is designed for easy handling and safety, with wide side decks, sturdy handrails, and well-placed cleats and winches.
The cockpit of the Dehler 38 is spacious and comfortable with wheel steerin. The cockpit has an aft locker for storage, a folding swim ladder on the transom, and an emergency tiller access hatch on the cockpit floor. The cockpit also has an instrument console above the companionway that displays speed, depth, wind, compass, GPS, VHF radio, autopilot, and stereo controls.
The Dehler 38 has a well-balanced sail plan that allows the boat to sail fast and close to the wind in various conditions. The boat also has good stability and maneuverability thanks to its fin keel and spade rudder.
The above text was drafted by sailboat-cruising.com using GPT-4 (OpenAI's large-scale language-generation model) as a research assistant to develop source material; we believe it to be accurate to the best of our knowledge.
---
Other sailboats in the Dehler range include:
---
Sep 29, 23 05:38 PM

Sailing characteristics and performance predictions, pics, specifications, dimensions and those all-important design ratios for the Hanse 400 sailboat...

Sep 29, 23 03:17 AM

Interested in the Gulf 32 sailboat? Here are the pics, specs and performance predictions you're looking for...

Sep 28, 23 04:04 PM

Sailing characteristics and performance predictions, pics, specifications, dimensions and those all-important design ratios for the Fuji 35 sailboat
---