The Hanse 548 Sailboat

Specs & Key Performance Indicators
The Hanse 548, a light displacement cruising sloop, was designed by Judel/Vrolijk & Co and built in Germany by Hanse Yachts.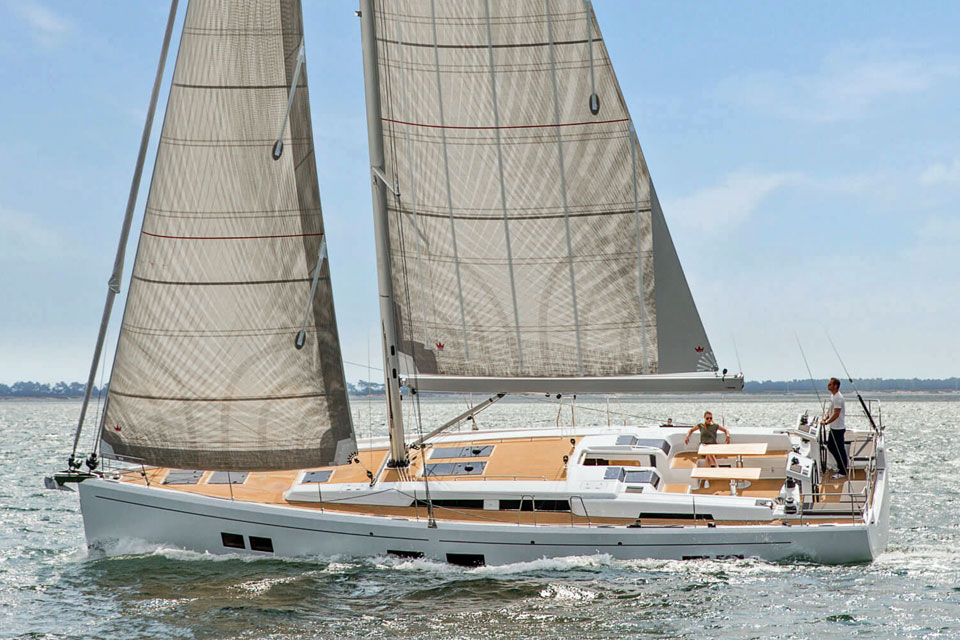 The Hanse 458 - note the Solent Rig and the vertical battens in the furling headsail
Published Specification for the Hanse 548
Underwater Profile: Bulb fin keel & spade rudder
Hull Material: GRP (Fibreglass)
Length Overall: 53'3" (16.2m)
Waterline Length: 48'10" (14.9m)
Beam: 16'7" (5.1m)
Draft: 8'4" (2.6m)
Rig Type: Fractional sloop
Displacement: 43,211lb (19,600kg)
Designer: Judel/Vrolijk
Builder: Hanse Yachts (Germany)
Year First Built: 2017
Design Ratios: The Key Performance Indicators
The Sail Area/Displacement (SA/D) Ratio is a critical performance metric to consider. The Hanse 548 has a SA/D ratio of 24.23, indicating the sailboat has a large sail area relative to its displacement. This suggests that you can expect swift acceleration and short passage times.
The Displacement/Length (D/L) Ratio of the Hanse 548 is another important factor. This ratio measures the sailboat's overall displacement in relation to its length. With a D/L ratio of 129 for the Hanse 548, it indicates a relatively moderate displacement, implying a balance between speed and stability.
Now let's also explore the Ballast/Displacement (B/D) Ratio of the Hanse 548. This ratio measures the boat's stability by calculating the amount of weight it carries below its waterline. The Hanse 548 has a B/D ratio of 31.1 %. A high B/D ratio suggests the boat is more stable, less likely to heel over, and can therefore safely carry more sail area .
When evaluating the comfortable living aboard, the Comfort Ratio (CR) is a pertinent metric. The CR of Hanse 548 stands at 31.1, revealing a high degree of comfort and stability, even in rough sea conditions.
The Capsize Screening Formula (CSF) is a key safety feature to consider. A lower CSF means the boat is more resistant to capsizing. With a CSF of 1.97, the Hanse 548 is less prone to capsize, increasing its safety factor.
Read more about these all-important design ratios, and how thay are derived...
On Deck
Note the three keel options - shallow, standard and deep draft.
1. Deck Layout: The deck of the Hanse 548 is designed to prioritize both safety and entertainment. It features a spacious cockpit with twin carbon wheels for easy manoeuvrability, a large dining area with a folding table, and a lounge area near the stern. At the stern, there is a large hydraulic swim platform that adds extra outdoor space when stationary.
2. Rigging: The Hanse 548 offers an innovative easy sailing concept. This includes a self-tacking jib that makes manoeuvring the yacht easier, even with a small crew. The mainsail too is designed for easy handling with its in-mast furling system. The rigging has been designed so that all the sail controls can be handled from the helm, ensuring single-handed sailing capability.
3. Hull Design: The hull of the Hanse 548 is designed for speed and stability in water. It has a high freeboard and a strong bow which helps in handling large waves. The underbody is similarly robust, with a deep, lead keel and a spade rudder which ensures the boat is well-balanced even at high speeds.
4. Other Features: The exterior of the Hanse 548 also includes other amenities like a sunbathing area, an outdoor shower, and plenty of storage space for water toys and equipment. There are also several portholes and hatches to provide natural light and ventilation into the interior of the yacht.
Remember, the actual specifications and layout of the yacht could vary depending on the model and customizations made by the owner.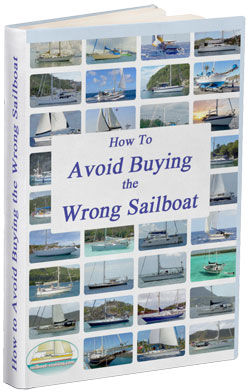 The essential eBook for potential boat buyers...
Below Deck

The accommodation layout - three double and three single berths
Hanse Yachts offers a variety of layout options for the Hanse 548 to cater to different needs and preferences. These include:
Three-Cabin Version: This layout includes a large owner's suite in the bow with a double bed, seating area, and separate shower and toilet area. There are also two guest cabins situated aft on each side of the vessel, each with a double bed. The galley kitchen is placed adjacent to the saloon, making it an open, spacious living and dining area.
Four-Cabin Version: This layout includes all features of the three-cabin version, with an additional cabin on the port side, forward of the saloon. This could be a bunk bed cabin, or a double bed cabin depending on your needs.
Five-Cabin Version: The five-cabin version has a similar layout to the four-cabin version, but it also includes an extra single cabin on the starboard side, forward of the saloon. This cabin could serve as a smaller guest cabin, or perhaps a crew cabin or storage space.
Custom Layouts: Hanse Yachts is known for offering customization options. Depending on the specific model and availability, they may offer even more choices in the layout, such as adjusting the size and position of the cabins, altering the galley location, or adding a navigation and map station for longer voyages.
It's important to note that the actual layout possibilities might be limited by the specific boat model and builder's specifications, and some versions may necessitate additional costs.
Read more about the latest boats in the Hanse range...
Comparison with Similar Sailboats
The Hanse 548 offers a unique blend of performance, comfort, and luxury, making it a standout option in its class. Here's how it compares to other similar sailboats:
Performance: The Hanse 548 is known for its high performance. It features an optimized hull shape and a self-tacking jib that allows for impressive maneuverability and speed, setting it apart from many rival vessels in its category. However, some similar yachts such as the Beneteau Oceanis 51.1 or the Jeanneau 54 might provide stronger performance in particular conditions, especially light winds.
Comfort: With a spacious interior, various layout options, and a fully-equipped galley, the Hanse 548 provides extensive comfort that out-matches many of its competitors. Its design prioritizes living space, with well-appointed cabins and roomy saloon areas. Some owners, however, have pointed out that the quality of some fittings and finishings could be improved.
Value: In terms of cost, the Hanse 548 is a significant investment, as it is priced similarly to other luxury sailboats in its category. It promises lasting value in terms of its robust build quality, though some buyers might find similar value in other brands that may offer better resale value or more standard equipment in the base model.
Other Features: The Hanse 548 stands out with its innovative easy-sailing concept that offers a single-handed sailing capability, a feature not found on every boat in its class. Its twin helm, large integrated swim platform, and convenient electrical systems are added advantages.
I wrote this article using GPT-4, OpenAI's large-scale language-generation model, as a research assistant to develop source material. I wrote the final draft in its entirety and believe it to be accurate to the best of my knowledge.
Dick McClary, creator and owner of sailboat-cruising.com
Other sailboats in the Hanse range include:
---
Nov 29, 23 08:35 AM

Here's where people with sailing equipment for sale advertise their stuff entirely free of charge. If you're looking for used sailing gear or other used boating accessories, here's where to find it!

Nov 10, 23 02:34 AM

My 47' Cheoy Lee sailboat is for sale. Designed by Bill Luders, she is a beautiful and functional liveaboard cruising yacht.

Oct 30, 23 04:22 PM

This article explores the journey of chartering a sailing yacht, from the initial planning stages to the final touches. It provides insight into the joys and challenges of embarking on a voyage of dis…
---